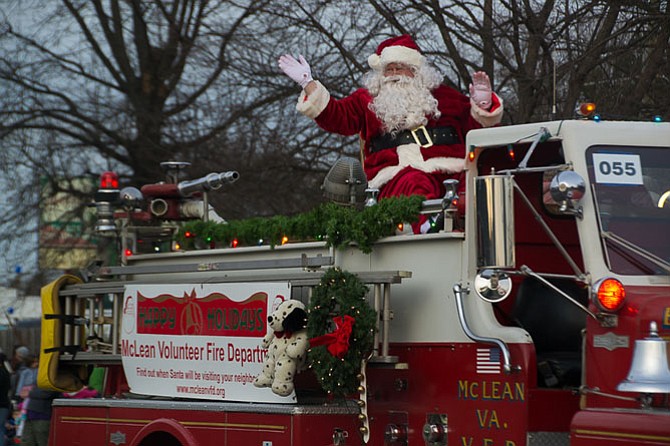 Photo Gallery
McLean WinterFest 2015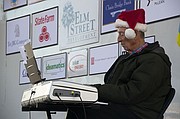 Click Photo for Flash
There were many drivers perplexed this Sunday afternoon when they realized Old Chain Bridge road was blocked off by police…that is, until they saw the sea of green and red that pooled into the heart of town for McLean's seventh annual WinterFest parade.
Musical performances, food trucks and Santa hats galore! Families and children of all ages convened for the pre-parade at 2:30 p.m. at the Langley Shopping Center for the festivities. Visitors were greeted with jazzy renditions of classic holiday tunes provided by Bob Rosenbaum on keyboard and the smell of hot chocolate wafting through the air. In addition to the hot chocolate donated by The McLean Baptist Church, the church displayed a Nativity scene complete with enthusiastic actors and live animals that entertained the children.
Those looking for something to pair with their free hot chocolate, after admiring the biblical scene and bahh-ing goats, flocked to the three food trucks located in the center of the shopping center: Mama's Donut Bites, Crepe Love, and California Sliders. Nutella crepes and sugary apple cider donuts managed to fill many bellies on the crisp Sunday afternoon.
With the exception of a few holiday scrooges, almost everyone's toes were tapping to the musical performances by some of McLean's most spirited singers. The choirs of Westgate, Spring Hill, Kent Gardens and Franklin Sherman elementary schools played festive tunes like "Jingle Bells" and "Santa Fever" for families on the crowded street. Over the sea of reindeer headbands and Santa hats, children could be seen swaying back and forth on the main stage, occasionally snapping in rhythm or giggling between verses.
At 3:30, Peggy Fox from WUSA Channel 9 greeted the audience on the main stage as she introduced the members of the parade. Local dancers, martial artists and the Girl and Boy Scouts accented Old Chain Bridge Road in colorful uniforms and costumes. Even local and state officials participated in the fun, waving to the crowds while cloaked in holiday colors.
One of youngsters' favorite members of the parade was Mrs. McLean, a "real life princess!" according to the transfixed girls who crowded the street curbs to catch a glimpse at the town's "royalty."
Santa's cameo on a giant red fire truck signaled the end of McLean's 2015 WinterFest. Missed out on all of the holiday fun? It's never too late to do some Christmas caroling or break out the eggnog…the holiday season has only begun in 22101.