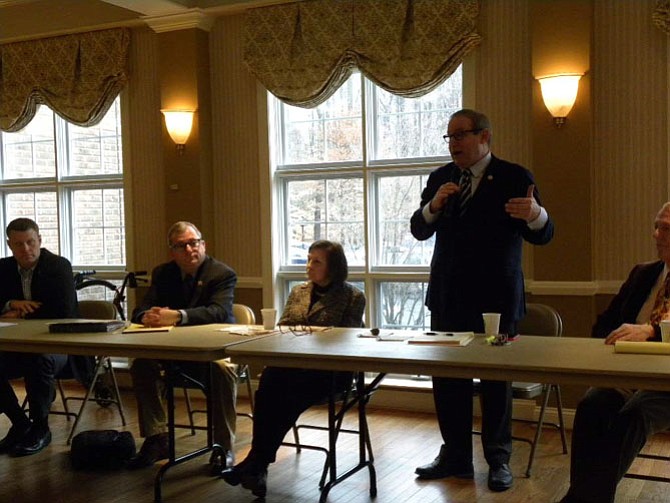 From left, Supervisor Jeffrey McKay, state senators Adam P. Ebbin and Linda T. Puller, Del. Mark D. Sickles, and state senator George Barker hold a town hall meeting at Thompson Center in Alexandria on Saturday, Jan. 24.

Stories this photo appears in:

The 45-day 2015 session of the Virginia General Assembly came to a close last week, one which Del. Scott Surovell (D-44) described as "pretty calm, mainly because guys on either side have stayed away from divisive social issues they've pushed in the past," and Sen. Toddy Puller (D-36) assessed, "For the most part, I think they did accomplish some good things."

Residents bring questions for legislators.
State senators George Barker (D-39), Linda T. "Toddy" Puller (D-36), Adam P. Ebbin (D-30), Del. Mark D. Sickles (D-43), and Supervisor Jeffrey C. McKay (D-Lee District) held a town hall meeting on Saturday, Jan. 24 at the Thompson Center in Alexandria. More than 40 people attended despite the overcast, drizzly weather. The panel acknowledged Puller, who announced her retirement earlier this month, and her work in the Virginia senate before talking about bills and issues they are working on during this short session of the General Assembly, which is scheduled to end Feb. 28.