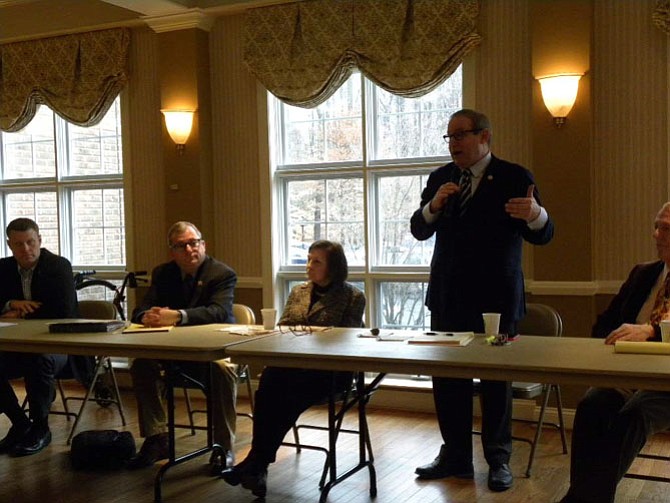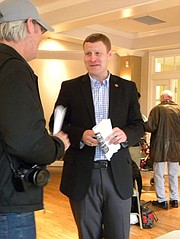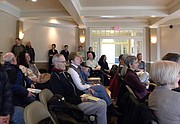 State senators George Barker (D-39), Linda T. "Toddy" Puller (D-36), Adam P. Ebbin (D-30), Del. Mark D. Sickles (D-43), and Supervisor Jeffrey C. McKay (D-Lee District) held a town hall meeting on Saturday, Jan. 24 at the Thompson Center in Alexandria.
More than 40 people attended despite the overcast, drizzly weather. The panel acknowledged Puller, who announced her retirement earlier this month, and her work in the Virginia senate before talking about bills and issues they are working on during this short session of the General Assembly, which is scheduled to end Feb. 28.
With the conviction of former governor Bob McDonnell and Del. Joseph Morrissey, ethics was an echoing concern for this session. Sickles called for a "tightening of the ethics situation." He is working on HB 2060, which requires reporting of travel expenses and reimbursements to an advisory council for review. Meanwhile, Ebbin will legislate SB 1289, which calls for the establishment of an ethics commission, a database for financial disclosures, and the curtailing of the value of gifts to officials.
Sen. Barker, who is working on 31 bills that run the gamut from education to mental health, said that his expectations for this session are modest. "I'm very pleased with the way the session started out. I think it's going to be a constructive session."
ATTENDEES, some representing specific causes, brought their questions for the legislators. Dick Kennedy, of the National Organization for Marijuana Reform, asked what can be done to further the marijuana bill. One of Sen. Ebbin's bills aims to reduce the penalty for small amounts of marijuana possession to a civil fine instead of a criminal offense.
Bill Almasi, of Alexandria, asked about the proposal to rename a portion of Route 1, Richmond Highway, after Congressman James P. Moran. He said that it would be contrary to the congressman's character and record to have something named after him. Supervisor McKay, who supported the renaming request, said that it is an effort to recognize Congressman Moran's work, and he also deferred the issue to the jurisdiction of Supervisor Gerry Hyland (D-Mount Vernon).
Pavel Ivanov, of Alexandria, asked the legislators about energy efficiency. He asked that builders orient windows and new houses south in order to use active not passive solar. "Subsidies give us a bad name," he said.
"What's next for residential and commercial properties?" asked Vincent Johnson, of Kingstowne. Supervisor McKay said that residential offices are planned and that surface parking at Springfield Town Center will be gone. He added that the construction of an urban park between the Metro and the mall will improve the experience walking between the two locations. Though the plans around Springfield Town Center may take 10 years, he said, "It will happen."
Del. Sickles and Sens. Puller and Ebbin listed the services and legislation for veterans issues in answer to Lt. Col. Deborah Snyder's question. Del. Sickles said that two veteran centers are underway in Northern Virginia and Hampton Roads. Sen. Puller addressed the work of Virginia Values Veterans and its partnership with businesses that hire veterans.
SEN. BARKER brought up Gov. Terry McAuliffe's goal to eliminate veteran homelessness in Virginia this year, by Veterans' Day. Supervisor McKay said that the efforts to count the homeless population, which began last year, will help in achieving this goal.
Norma Byron, of Kingstowne, came because she wanted to know where she can bring a spotlight to the treatment that her husband Gene, who suffers from Alzheimer's, received at the Inova Alexandria Hospital on Jan. 1. Sen. Barker asked the Byrons to talk to him after the meeting.
Sen. Barker said that the issue of medicaid expansion contributed to a level of tension last year that is not present in this session. "There's not one major dominant issue governing the session, and that always fosters good relations" because there is no divisive topic. Medicaid expansion "had everybody on edge a little bit," he said.
Legislative Priorities and Accomplishments, Highlights from the Town Hall Meeting
State Sen. George Barker (D-39th)
Sen. Barker will serve in a four-year legislative committee on mental health reform.
He has worked on making texting and driving something over which a driver can be pulled over.
State Sen. Linda T. Puller (D-36th)
Sen. Puller announced her retirement earlier this month, but she will remain in office until there is a new person sworn in.
She is working on a recommendation to extend Metro to Hybla Valley and bus transit to Prince William County.
Her legislation on SB 675/SB 676 culminated in the opening of two Veteran Care Centers in Northern Virginia and Hampton Roads, which will provide help to veterans, many suffering from PTSD, she said.
State Sen. Adam P. Ebbin (D-30th)
Sen. Ebbin plans to legislate on reducing small amounts of marijuana possession from a criminal offense to a civil fine (SB 686).
He is also working on SB 1179, which prohibits adults from allowing children under 4 from handling firearms and requires adult supervision for children ages 5 to 12 years old.
SB 1004 will lower tax on e-cigarettes with the intention of helping people quit smoking.
SB 1212 will differentiate tax amount on yachts that are more or less than $100,000.
SB 1213 will reestablish a Commission on the Prevention of Human Trafficking.
Del. Mark Sickles (D-43rd)
Del. Sickles said that he is planning to work on a new Virginia Preschool Initiative, which would provide tuition assistance grants to parents of each qualifying 4-year old.
He is also working on improving the special elections process and reducing the "too many political considerations," which would help candidates to win primary elections by giving voters more time to get to know them. There is not enough time between the primaries and the elections, he said.
He also plans to address Medicaid fraud, which will help clear up reservations regarding expansion. The Medicaid fraud prevention bill would ensure that financial institutions provide financial information about applicants. "Many people game the system and try to hide assets."
Supervisor Jeffrey McKay (D-Lee District)
Supervisor McKay said that the way the state funds education is "antiquated." He said, "It doesn't reflect high need populations that we have in Northern Virginia." He is pushing for a revamp of the local composite index but he believes it will likely not happen in this session. Fairfax County pays 70% of the education budget yet the state has primary responsibility for education. "We need to plant a seed, make people understand."
He said that he will work on getting funding to improve the condition of secondary roads to "take care of infrastructure."
He is also pushing for local governments to have additional taxing authority, as way to diversify revenue, which right now comes mostly from properties.
He said that a General Services Administration-owned site adjacent to the Franconia/Springfield Metro will meet the FBI relocation needs. "It uses land they already own and it's adjacent to transportation."
A Wegman's at the intersection of Beulah Street and Telegraph Road is now under construction and is scheduled to open in spring.
More Information on 2015 State and County Legislation and Priorities
Senators
http://apps.senate.virginia.gov/Senator/index.php
Delegates
http://virginiageneralassembly.gov/house/members/members.php
Board of Supervisors