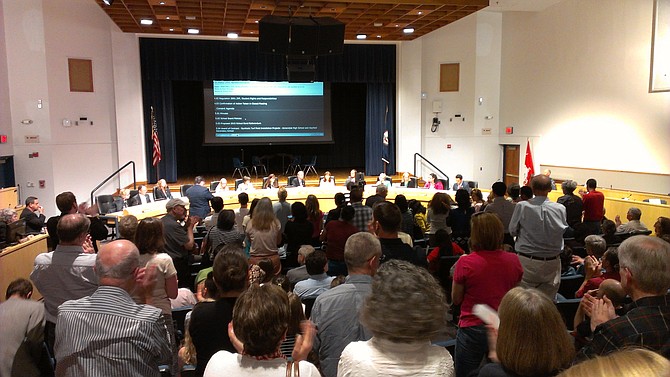 Citizens were actively engaged in the discussion leading up to the Fairfax County School Board's 10-1 vote in favor of adding gender identity to the district's nondiscrimination policy.
Stories this photo appears in:

When a student in Fairfax County Public Schools identifies as transgender and they bring it to the attention of their school staff, the school brings in the student's parents and together they work out a tailored bathroom plan: where to use single-stall facilities on campus that will make the student feel most comfortable.

Liberty Counsel challenges board's authority to add sexual orientation and gender identity.
When the members of the Fairfax County School Board added sexual orientation and gender identity to the school system's nondiscrimination policy in November 2014 and May 2015, did they have the authority?

The Fairfax County School Board's May 7 meeting drew a passionate and boisterous crowd that filled the Luther Jackson Middle School auditorium and spilled out into the main lobby. That night the board voted in favor of adding "gender identity" to its nondiscrimination policy for students, employees and applicants for employment.

Discrimination is bad, and everyone should have a safe environment in which to learn. These sentiments were common to the Fairfax County School Board members and the hundreds of parents who packed the auditorium and front lobby of Luther Jackson Middle School for the board's May 7 meeting.