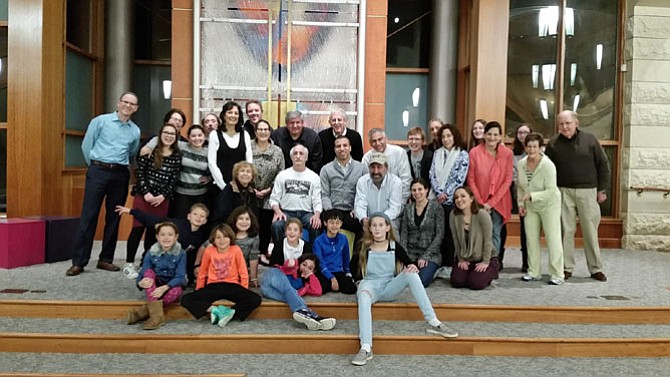 Some of the Joseph cast in rehearsal. From left, front row are Sydney Ashin, Jordan Miller, Matthew Strauch, Syliva Fine, Reese Effross, Lila Segal, Mark Chen, Caroline Kaye; second row: Sue Alterman, Andy Zuckerman, William Jeffreys, Kevin Teichman, Stacy Silberman, and Michelle Hessel; third row: Tekoa Sultan-Reisler, Gabriella Fine, Shelly Basen, Toby Holtzman Jeff Ashin, Rob Milanich, Lauren Menkes, Barbara Weckstein Kaplowitz, Kandy Hutman; fourth row: Hazzan Henrique Ozur Bass, Meryl Cohen, Donald Hurwitz, Paul Loebach, Andrew Strauch, Brett Kaplowitz, Jennifer Miller, Nessa Raskin, Amy Eisenberg, and Ed Hutman.

Stories this photo appears in:

Musical set for this weekend.
The musical production "Joseph and the Amazing Technicolor Dreamcoat," the tale of Joseph, his 11 brothers and the "coat of many colors" is returning to Har Shalom for a repeat performance.