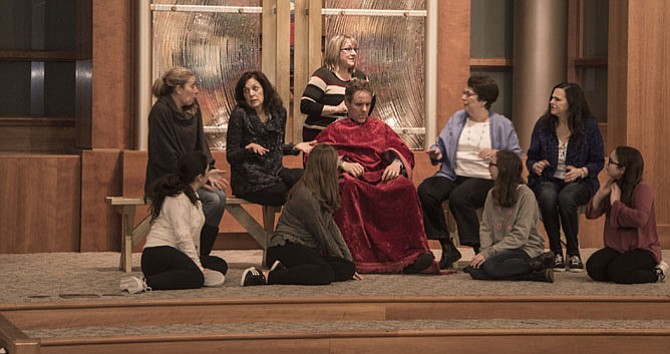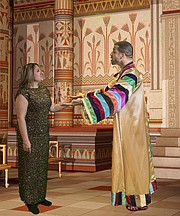 The musical production "Joseph and the Amazing Technicolor Dreamcoat," the tale of Joseph, his 11 brothers and the "coat of many colors" is returning to Har Shalom for a repeat performance. This musical story of Joseph from the Bible's Book of Genesis was the first production performed by the Har Shalom Players (HSP) in 2006.
The theatre group has continued to draw crowds each year with their family performances that feature casts of children and adults. Previous productions have included "Bye Bye Birdie," "Beauty and the Beast," "Fiddler on the Roof," "Shrek The Musical" — and more.
"Joseph and the Amazing Technicolor Dreamcoat" will be performed at 8 p.m. on Saturday, Jan. 28 and at 4:30 p.m. on Sunday, Jan. 29. The cast of 41 includes children and teens from eight area schools.
"I love that Joseph is entertaining, fast-moving and fun," Artistic Director Shelly Horn said. "But I also love that it tells a story and shares messages about hope and forgiveness. This year seemed like a good time to reflect back to our beginning and repeat our original show. When we did the show in 2006, we were just learning to work together and we had to reach out to pull together a cast. Now, 11 years later, we have many HSP members who audition each year and we continually add actors from other community theater groups to our casts."
"Joseph" is an enduring operetta with little spoken dialogue; it is sung-through with music of many styles — an Elvis-inspired Rock and Roll "Song of the King," a western "One More Angel in Heaven," a 1920's Charleston, "Potiphar," a Calypso, "Benjamin Calypso," and 1950's music — "Go Go Go Joseph."
"There is so much joyful music in the score, almost wall-to- wall joy," Vocal Director Paul Rossen said. "My favorite song is called 'Stone the Crows' and it epitomizes what I love about the music: constant motion, exciting ensemble parts and pretty tunes." Rossen is new to the HSP. "HSP is so welcoming. Everyone seems like a family and all are willing to try new things and step out of their comfort zone. It's also the biggest collection of comedians I've ever worked with. People should see the show for the great work of the cast. The ensemble has been singing their heads off, the actors playing Joseph's family are laugh-out-loud funny and the leads (the Narrator, Joseph and Pharaoh) are tremendous. The kids are great and we have a stellar orchestra led by Marci Shegogue."
Other actors say they are enjoying the Har Shalom community, the interaction among the actors and the joy of experiencing the wonderful music in the show.
Stew Remer and Ken Lechter are founding producers of HSP. They also co-produced the first "Joseph" in 2006.
"We selected Joseph for a second time because of its timeless Biblical content and its wonderful story which can be appreciated by both children and adults on different levels," Remer said. "Interestingly, we have almost the same production team for our upcoming show that we had for our 2006 production. In addition, eight of our current cast members performed in our 2006 production; seven of them in the same roles."
Lechter said, "We have been wanting to do a revival of Joseph for several years. It's a very popular and familiar show with a Jewish theme. It is truly a charming show performed in a beautiful and unusual venue — almost theater- in-the-round — which involves the audience in some of the scenes."
Tickets can be purchased on www.tinyurl.com/hsjosephtix or call 301-299-7087.