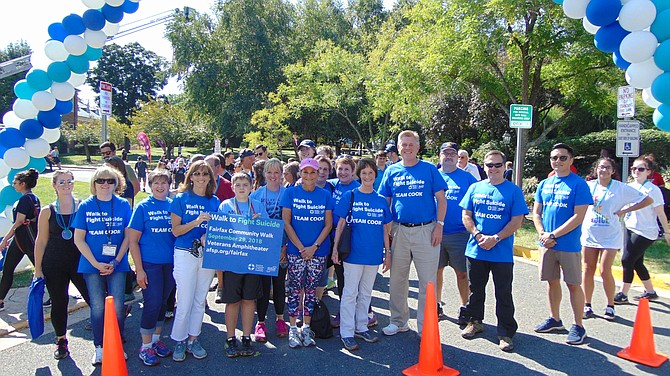 Supervisor John Cook (Braddock) with his team of County leaders who participated in the 11th Annual Fairfax Out of the Darkness Walk held Saturday in Fairfax. Team Cook included Del. Eileen Filler-Corn, Board Chairman Sharon Bulova, Sheriff Stacey Kincaid, Supervisor Pat Herrity (Springfield), Supervisor Kathy Smith (Sully), Fairfax County Police Chief Ed Roessler, Fairfax County Fire Chief John Butler, Braddock School Board Member Megan McLaughlin, Deputy County Executive Dave Rohrer, Department of Family Services Director Nannette Bowler, Deputy County Executive Tisha Deeghan, Deputy Fire Chief Richard Roatch, Juvenile & Domestic Relations District Court Director Bob Bermingham, and Out of Darkness Walk organizer Karrie Leigh Boswell.

Stories this photo appears in:

11th Annual Fairfax Out of the Darkness Walk draws 1,200 participants.