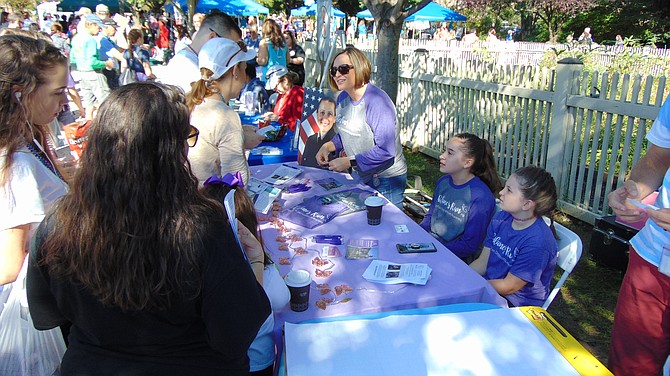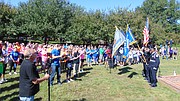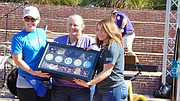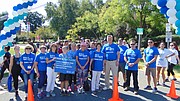 With sunny skies and beautiful weather, about 1,200 people participated in the 11th Annual Fairfax Out of the Darkness Walk last Saturday, Sept. 29, in Fairfax. Braddock District Supervisor John Cook organized a team of 22 County leaders to lead the walk, which started at the Veteran's Amphitheater in front of City Hall. The walk helped raise money and shed the light on suicide prevention and awareness; suicide is the third-leading cause of death in the U.S. for ages 15-24.
HIGHLIGHTS included a "flyover" by a Fairfax County Police helicopter during the singing of the National Anthem, as well as booth exhibitors relating to suicide prevention and awareness on the grounds before the event. There were 28 sponsors who helped raise $145,000 online (with the goal of $175,000). The team called "Together for Tyler" raised the most, at $12,000. Proceeds from the walk benefit the American Foundation for Suicide Prevention (AFSP, website: https://afsp.org/), which seeks to reduce suicide rates 20 percent by 2025. This year's Fairfax walk is one of more than 400 Out of the Darkness Community Walks nationwide.
According to Cook: "It's great to be out here with the community today to have this Out of the Darkness Walk to speak to the community about the importance of suicide awareness – reducing stigma, that there are people who can help so if you have a friend or family member or neighbor in need. If you're in need, there are people to help; there is hope."
Added U.S. Rep. Gerry Connolly (D-11): "I'm really moved by the fact that so many people are coming out. The whole challenge about suicide in our society is bringing it out of the shadows, out of the darkness. So that we're talking about it and we're ending isolation that people feel or at least throwing out a lifeline. Suicide affects every age group, every socio-economic cohort in our society, and it's a very tragic event that happens in your family or with your friends or co-workers. We want to make a statement of hope and provide a lifeline to those who are feeling despair or contemplating suicide."
Sharon Bulova, Chairman of the Board of Supervisors, added: "This event, the Out of Darkness Walk to prevent suicide, is a staple on my calendar every year. It's important, its powerful and I applaud everyone who organizes this and makes it happen every year. I'm a believer in shedding light on difficult subjects; and shedding light on the subject of suicide is really important in order to prevent it and to let people know that there's help."
Added David Meyer, Mayor of the City of Fairfax: "It is ironic that in this age of social media, where we are more connected to each other than in any time in human history, that more and more people feel isolated, disconnected, anxious, and depressed. So, the challenge is as great as ever."
Liz Barnes of Nokesville who volunteers with the PRS CrisisLink, the 24-7 Crisis hotline in the area and works in the Defense Suicide Prevention Office for the Department of Defense, added: "I'm here because I truly believe that suicide is preventable and that we're here for awareness. And know that anybody that is struggling, there is help and support 24-hours a day, seven days a week, 365 days a year, at 1-800-273-8255."
TEAM COOK included Del. Eileen Filler-Corn, Chairman Sharon Bulova, Sheriff Stacey Kincaid, Supervisor Pat Herrity (Springfield), Supervisor Kathy Smith (Sully), Fairfax County Police Chief Ed Roessler, Fairfax County Fire Chief John Butler, Braddock School Board Member Megan McLaughlin, Deputy County Executive Dave Rohrer, Department of Family Services Director Nannette Bowler, Deputy County Executive Tisha Deeghan, Deputy Fire Chief Richard Roatch, Juvenile & Domestic Relations District Court Director Bob Bermingham, and Out of Darkness Walk organizer Karrie Leigh Boswell. This is the first time a Fairfax County elected leader initiated a team of officials for the Fairfax Out of Darkness Walk.