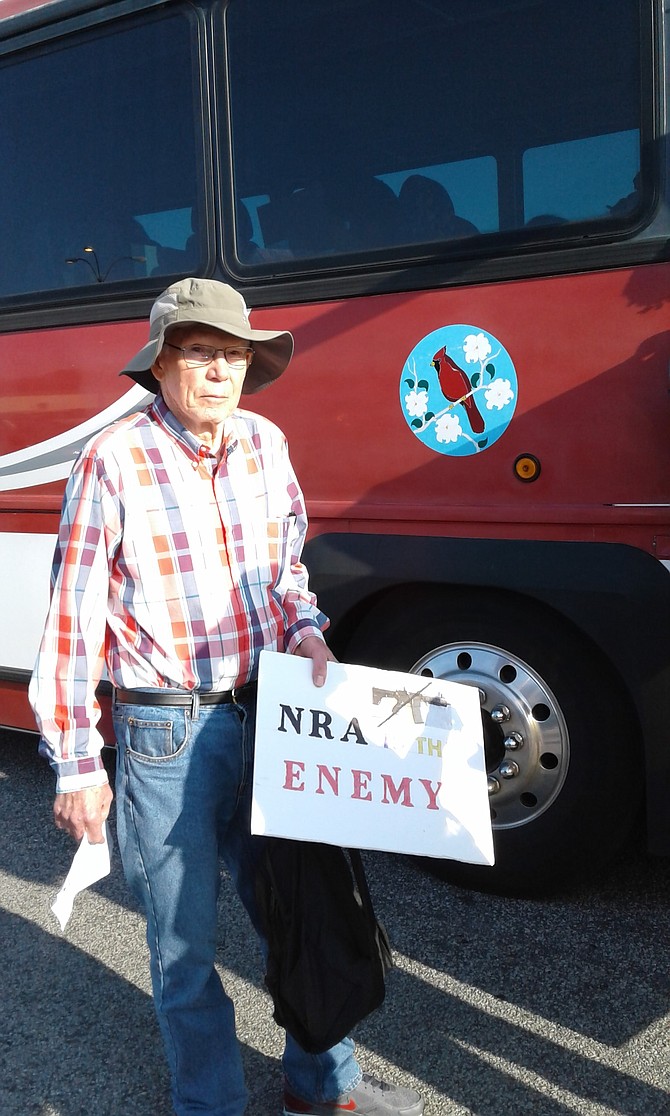 Richmond or Bust: Early on a Tuesday morning at a commuter parking lot in Woodbridge, Springfield resident Earle Mitchell waits his turn to board one of three motor coaches chartered by Brady United Against Gun Violence — on the way to Richmond July 9 for a "Votes and Laws" rally before noon at the state Capitol. They urged Commonwealth lawmakers to pass "sensible" firearm safety laws designed to prevent future deaths from gun violence before the start of a Virginia General Assembly special session that ended as quickly as it started.
Mitchell started volunteering for gun violence prevention causes more than six years ago, when 20 school children and six adults were fatally shot Dec. 14, 2012 at the Sandy Hook Elementary School in Newtown, Conn. Mitchell said he served 28 years for the U.S. Navy and worked as a defense contractor. The 82-year-old activist says he supports universal background checks and believes "Virginians want more gun control." Before boarding the Brady bus, Mitchell affirmed — no matter the outcome in Richmond — he would continue writing letters to lawmakers and newspaper editors, plus hand-written postcards urging folks to vote a straight ticket for the Democratic Party in November.
Stories this photo appears in:

Local activists reaffirm their commitment to gun violence prevention movement.
.