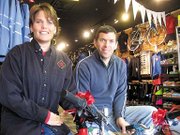 Holly Jackson still remembers waking up on Christmas morning to find a brand-new bicycle waiting for her next to the tree. The Falls Church resident, now a government contractor, was 10 at the time and saw her whole world open up on that morning.
"It was my first big-girl bike with the streamers on the handle bars and everything," Jackson said. "I remember it was just freedom and independence, I could go anywhere in the neighborhood now. I felt like a grown-up."
In 2000, Jackson, who is also a mountain-biking enthusiast, saw an opportunity to bring that same feeling to needy children throughout the region when she started raising money through her bicycling club. The goal was to use that money to purchase new children's bikes and donate them to the Marine Toys for Tots Foundation, an annual holiday gift repository for less-fortunate children and their families.
LAST YEAR, the regional effort became more organized and widespread when The Bike Lane, a Burke bicycle shop, teamed up with Jackson and other regional bicycle groups to raise enough money to donate more bikes to the foundation.
"We had wanted to do something like this every Christmas, but we just couldn't find out how," said Anne Mader, a Fairfax resident who owns The Bike Lane alongside her husband Todd. "The Toys for Tots program allowed us to do that. It just made it much more efficient and gave it a recognizable name."
Owning a bicycle store worked to the effort's advantage. The Maders are able to purchase the donated bikes at wholesale price, allowing them to donate more bikes.
Last year, The Bike Lane and Jackson were able to raise enough money to purchase 18 bikes and helmets — the most ever donated in one season since the effort began. This year, the group has set its sights on raising approximately $5,500 by Dec. 15. If accomplished, the amount would be enough to buy 50 bicycles and helmets, according to Mader.
Getting involved with The Bike Lane and other bicycling groups "creates an opportunity for a lot of people to come together and donate together," Jackson said. "When you have that many people getting the word out and working together, you can raise enough to buy bikes for many of these children."
BEING PART OF an effort that could bring a magical feeling to children on Christmas morning encouraged Mader to become involved in the effort.
"It's a great thing to wake up to a bike on Christmas morning," she said. "I think that at some point, every kid wants to make up in the morning and see that bike under the Christmas tree."
The fact that the charity effort focuses on giving children a gift that involves exercise and a potential new hobby has attracted cyclists to donate as they are shopping for the holidays, Mader added.
"For our customers, there's an immediate connection to the program," she said. "They all love to ride their bikes and love the activity, so giving that to someone else during the holidays is very important to them."
Jim Harman, of Fairfax-based EX2 Adventures, an official sponsor of the bike donor effort, said that he has noticed an attraction among his customers to donate to the effort. EX2 Adventures organizes "adventure sports races" throughout the area.
"It creates a pretty logical connection between what our athletes do … and raising money for kids to have bikes at the holidays," Harman said. "At this time of year, people really want to give back to the community and this allows our customers to do that in a way that fits their interests and passions."
Just knowing that dozens of children who might not have otherwise received many gifts during the holidays could wake up to a brand new, high quality bicycle on Christmas morning is the biggest reward for Mader.
"We're getting to a kid that wouldn't normally get a bike or get that feeling of seeing a bike on Christmas morning," she said. "That's why we do what we do and we want to support that, especially around the holidays."