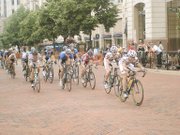 As people are just beginning to wander into the Town Center, Reston's bikers open their weekends with an early morning ride through town.
Every Saturday morning at 9 a.m., bikers meet outside The Bike Lane shop before heading out on their weekly ride, assistant manager Tony Hernandez said. The rides are sponsored year-round, even during winter, and are only cancelled for inclement weather. The Bike Lane has been organizing the 30-mile rides in the Reston area since it opened in the Town Center a year ago. The Bike Lane's sister store in Burke has sponsored a similar program for nine years.
The group of 25-30 riders that typically meet comprises a mix of customers, Bike Lane employees and members of the store's bike team. The rides are "no-drop," which means that bikers of all experience levels will be able to ride at their own pace until they finish the course.
"Unfortunately, there are a lot of group rides that push the pace and aren't as good for beginners," Hernandez said, noting that inexperienced bikers tend to wait a few weeks before trying to join the morning rides. However, Hernandez said that interested riders only need a bicycle to participate. "You can buy a bike tomorrow and show up the following day to ride."
More experienced bikers can compete as part of The Bike Lane's team, which mostly consists of serious customers.
The Bike Lane builds bikes for children, collaborates with charities such as Toys for Tots and sponsors bike races, Hernandez said.
One popular local race is the Reston Town Center Grand Prix, which took place for the eighth time on June 28. The Reston Bike Lane and Evolution Cycling both sponsored the Sunday event. Six streets in Reston were blocked as 376 racers competed in the seven events throughout the day.
Besides fostering the spirit of competition, the races raised money in collaboration with the nonprofits Raisin Hope, which aids people with brain injuries, and Wounded Warriors, which supports soldiers with combat injuries.
Interested bikers who want to participate in the Saturday morning races can contact The Bike Lane at 703-689-2671.