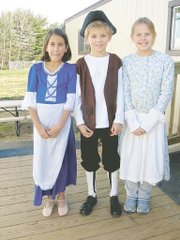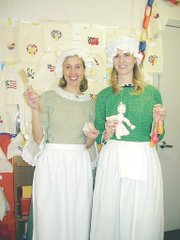 Wolf Trap Elementary School fourth-graders donned 18th century garb, churned butter, made Johnny-cakes, and listened to a fife-and-drum corp, as they recreated colonial life during the school's annual Colonial Day program.
Enthusiastic students dipped candles, constructed real "rag" dolls made of yarn, and created stencilled art work as they stepped back into America's colonial past.
Bonnie Fairbanks of "Little Maids of History" of Northern Virginia re-created the character of an 18th century school teacher, engaging the cooperative students in an interactive skit.
"We could not have done this without our Wolf Trap parents," said fourth-grade teacher Kathleen Dore, dressed in a parent-made costume.
The fourth-graders looked as if they had just stepped out of Williamsburg. More than 50 costumed parents volunteered their time and services to help with 18 different crafts and garner supplies. The event was paid for with Fairfax County Schools funds and by donations from parents.
The event brings life to history and the students learn from the experience, and enjoy it, as well.
"We have proper shelters," said Carla Castenaro. "We don't have to live in cabins. Our houses have insulation, and we have a way of telling if our water is safe to drink."
Connor Smith addressed the food issues head-on: "The colonists had to shoot their own meat; we get to buy it at the grocery store. They churned their own butter; we buy it.
"They needed to build fires; we have ovens and stoves."