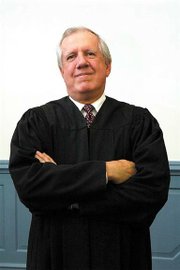 Criminals who make their way into Courtroom One of Alexandria's circuit court will find the same sort of equality before the law that they might experience in any Virginia courtroom. But there, in the midst of lawyers and prosecutors and clerks and curious onlookers, they will find something more — a judge who takes the time to explain the sometimes mystifying actions of the court to those who are about to be sentenced. It's their day in court, after all — one that they will probably remember for the rest of their lives. So Judge John Kloch wants them to understand every nuance of the proceedings.
"Some judges will just say 'I find you guilty, and you're sentenced to 30 days,' but Judge Kloch takes the time to explain why he's making a ruling and what it means," said Lt. John Kapetanis, who oversees security for the Sheriff's Office at the city courthouse. "He gets personal while remaining professional."
For more than a decade, John Kloch has ruled Courtroom One with a firm yet sympathetic hand. He has overseen countless criminal cases involving unspeakable violence. And he has waded into complicated civil litigation where parties are haggling over money. Later this month, he will hear his final case as a circuit court judge, hang up his robe and retire — drawing to a close a long and distinguished career as a respected attorney, successful prosecutor and eminent judge. Those who have worked with him over the years say that Judge Kloch has an intrinsic appreciation for the concept of equality before the law.
"He reminds me of like that part in 'To Kill a Mockingbird' where courts are described as being the great levelers," said Commonwealth's Attorney S. Randolph Sengel. "Everybody walks out of his courtroom feeling like they were treated equally."
<b>BORN ON THE</b> windswept western edge of Nebraska, Kloch grew up in Depression-era Midwest — a time and place that he said shaped his moral values, work ethic and decidedly minimalist public profile. As a boy, Kloch spent his days herding cattle and growing wheat in the wide-open prairies of his family's 800-acre farm in Sand Hills, Neb. In high school during the late 1950s, Kloch studied agricultural science and planned to follow in his father's footsteps as a farmer.
"I think I was probably viewed by my classmates as a hayseed," said Kloch over coffee during a recent interview in his fourth-floor courthouse office. "But farming is a tough life, and I wanted to see the world. So I joined the Army."
After graduating from high school in 1959, Kloch was stationed in France and trained as a tank mechanic. As someone with experience fixing tractors in Nebraska, he took to the job quickly and spent two and a half years travelling through the southern French countryside inspecting military vehicles. He later enrolled in the University of Maryland to study Economics, which was experiencing somewhat of a renaissance because of President Lyndon Johnson's Great Society programs.
"I was into the theory that you have to spend money to get money," said Kloch, who spent his college years studying the work of John Maynard Keynes. "I guess I had a vision of myself becoming this great economist."
<b>THAT VISION WOULD</b> take a detour, however, when Kloch had to take a year off because he didn't have enough money to continue his studies. He returned to Nebraska to work as a credit manager for Montgomery and Ward. By the time he graduated college, he was already considering other options. One day — almost on a whim — Kloch the entrance exam for law school. As it turns out, he did very well — and it wasn't long before he fell in love with the law. Soon afterward, he enrolled at American University's law school.
"I had no lawyers in my family. I didn't even know any lawyers. I don't even know why I did it," said Kloch. "Maybe I was watching Perry Mason or something."
Kloch excelled at American University, partly because he was a few years older and more worldly than most of his contemporaries as a result of his time in the Army. The law was an engaging intellectual challenge and useful pragmatic tool for Kloch, who had now found a profession where he could use his interpersonal skills. Unlike the world of economics, most of which revolves around abstract theories, Kloch said he was drawn to the law because it incorporates actual people and their problems. By the time he graduated from law school in 1970, he had already established himself in the Washington legal world in the firm of Middleton, Jason & Cadeaux.
"The way D.C. worked back then, you would just stand around and the judge would appoint you to a case," said Kloch. "Pretty soon I was getting my own clients."
By 1972, Kloch was ready to strike out on his own, setting up his own practice in Alexandria's Law Building on North Fairfax Street — directly across the street from the old courthouse, which was then located in the east wing of City Hall. It was here where Kloch met a man named Bill Cowhig, who was than planning to launch a challenge to Republican Commonwealth's Attorney John Kennahan. When Cowhig beat Kennahan with 459 out of 17,329 votes, Cowhig asked Kloch to join his office as the chief deputy. Kloch agreed and began a 19-year career as a prosecutor.
"Initially, I thought I'd stay for two years and then move on to something else," said Kloch. "Well, I never left — and 34 years later I'm still on the taxpayers' dole."
<b>DURING THE 1970s</b>, Alexandria was experiencing a rash of violent crime and radical social upheaval. The decade began with a series of race riots that swept through the city, and by the time Kloch became a prosecutor the city's Police Department was facing about 25 murders a year. Violence was commonplace, especially along the now-gentrified stretch of King Street between the Masonic memorial and the waterfront. Racial tensions were palpable, and Kloch found himself battling Alexandria's underworld of rapists, drug dealers and killers.
"In some ways, Alexandria was still a redneck town," said Kloch, recalling his initial days as a prosecutor. "It wasn't a good Saturday night unless there was a knifing or a shooting."
By the late 1970s, the city was awash in rumors about Cowhig's involvement in an illegal bingo operation — a violation of the strict laws that govern when and how gambling can take place in Virginia. A special prosecutor was appointed, and Cowhig endured two trials before being acquitted on both counts and resigning in a highly scandalized atmosphere of accusations and counteraccusations. A special election in 1979 pitted three participants against each other in an unusual race to succeed Cowhig as commonwealth's attorney: John Kloch, who was then the acting commonwealth's attorney and Democratic candidate for the office; former prosecutor Barry Poretz, who had served under Kennahan's Republican administration; and Kennahan himself, who was trying to make a comeback in an independent bid for his old office. Kloch won with 6,436 votes.
"Before the debates John and I would be outside talking to each other and laughing with each other," recalled Poretz, now a federal judge in the Eastern District of Virginia. "I just ignored Kennahan."
<b>IN THE WAKE</b> of the bingo scandal, Kloch wanted to restore a sense of decorum to the prosecutor's office by de-politicizing it. He made sure that the walls were stripped of political posters and that prosecutors understood that he would be creating a firewall between what happens in the courtroom and the rhetoric heard on the campaign trail. When Kloch learned that he had been given inaccurate information about a defendant's criminal history in a 1984 death-penalty case, he called for a retrial so there would be no question about the man's guilt when he was later sentenced to die by electrocution. From 1979 to 1997, Kloch served as the city's elected prosecutor, and ran four unopposed campaigns.
"I am a prosecutor who happens to be a Democrat," Kloch told a Gazette Packet reporter during the 1989 campaign. "I'm unopposed for lack of an issue."
Although there were no issues on the campaign trail, Kloch identified many problems with the Virginia code. During his experience as a prosecutor, he realized that many of Virginia's laws were outdated and counterproductive — especially those regarding rape cases. So he began travelling to Richmond to advocate for reform. Largely because of Kloch's efforts, Virginia added a "rape shield statute" to protect victims of rape from having their sexual history dragged into court proceedings during a trial. He also worked to change an obscure Virginia statue that made it impossible for a husband to rape his wife because of their marital relationship.
"I think this is a very important part of John's legacy," said Vola Lawson, who was city manager when Kloch was commonwealth's attorney. "He was a thoughtful progressive and effective commonwealth's attorney — and he later brought those same qualities to the bench as a judge."
<b>APPOINTED TO THE </b>bench in 1997, Kloch was the junior member of the circuit court until 2005 when Lisa Kemler was named after a contentious partisan battle in which Republicans and Democrats in Richmond fought bitterly over potential candidates. Democrats preferred Juvenile and Domestic Court Judge Nolan Dawkins while Republicans chose lawyer Tim Battle. Eventually, a compromise was struck and Kemler was named to the court. Now that Kloch has announced his retirement, the next General Assembly is set to take up the issue during its session next month.
"I would hope they would elect someone who could do a good job, and not just because they are a Republican or a Democrat," said Kloch.