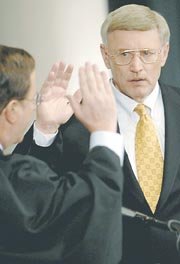 Fairfax County Supervisor-elect, John Foust (D-Dranesville), could soon open an office at the Town Hall in Herndon. The Herndon Town Council voted to authorize Mayor Steven DeBenedittis to sign a lease agreement with the county for the open space.
"I am looking forward very much to having an office out here," said Foust, who will take over from Joan DuBois as the district's supervisor. Town Attorney Richard Kaufman said the lease, if approved, would be granted for two years with a nominal rent.
"This is a win-win situation for everyone," said Council member David Kirby. "Coming to Town Hall [for services] surely beats going to County Government Center" in Fairfax.
DeBenedittis agreed that the situation benefits the county as well as the town and its residents. "It is great to have an opportunity to provide services in the town," said DeBenedittis.