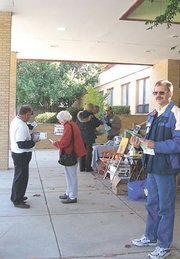 The lines at West Springfield Elementary started early, before 6 a.m., just as the rain started to clear.
By 10 a.m., more than 350 people had arrived at the school to vote, said Kathy Perdue, a volunteer handing out information for the Republican Party on Election Day.
"This is always a heavy voting precinct," she said.
While none of the voters were taking with her about their candidates or the issues they found important, Perdue said it may have been money driving the votes.
"All the ads that have been on TV lately, all the signs you see everywhere" may have reminded voters to visit the polls, she speculated. "When you drive down the highway, instead of seeing the trees, you notice the signs."
Kevin Cook, chair of the Springfield District Democratic Committee, said the possibility of Democratic challengers taking control of the Virginia legislature was bringing voters out.
"That's why there's so much money involved this year," he said. "The Democrats only need to pick up an additional four seats to take control of the Senate."
Or, it could all be a matter of civic duty.
"It's my duty as an American," said Kristin Salvato, leaving the school with her voting sticker proudly displayed. "I brought my children with me to show them that this is what you do."
JUST DOWN the road at Orange Hunt Elementary, voters lined up steadily all morning.
"I wanted to vote against Connolly," said David Fields of Burke, referring to Fairfax County Board of Supervisors Chairman Gerry Connolly (D-At-large). "He's trying to grow the county into a kind of fiefdom and I don't appreciate that. He's very dismissive of the immigration issue."
Democratic poll volunteer Jennifer Heinz said turnout in the large Orange Hunt precinct was slow Tuesday morning, with only 573 votes cast by 10 a.m. in a precinct of over 4,000 people.
"People tend to be very conscientious on both sides," she said.
Just down the sidewalk, a man with a familiar name was encouraging Republican voters to support his favorite candidate.
"I think it's looking pretty positive for Ken," said Ken Cuccinelli, Sr., father of State Sen. Ken Cuccinelli (R-37). "People have been very polite this morning. I've seen a few people park their cars and put on their suit jackets to come in and vote."
Heinz and Cuccinelli agreed most voters already had their minds made up before stepping into the voting booth.
CUCCINELLI LATER made his way over to Sangster Elementary, where workers were enjoying the late morning sunshine on a chilly day.
Callie Call, a Republican volunteer, and Barbara Ginsburg, a Democrat, were standing together and talking during a lull in voting.
"I think turnout has been kind of small, but it's not as bad as I thought it would be," Call said. "I think we've had about 300 people so far today."
Many of the voters were quiet as they went in to cast their ballot, but Call said one man had no problem letting her know how he felt.
"One man stopped and congratulated both of us for running a horrible race this year," she laughed.
It was the first time Ginsburg had worked the polls, and she was surprised by how friendly people seemed.
"People were very pleasant, more than I thought they would be," she said.
With her two small children in tow, Catherine Chase said she wanted to vote to be involved in the political process.
"We need more people to get involved," she said. "Especially in an off-year when the local offices are being filled, because if no one votes, only a small percentage of people will decided who gets into office. That's a bad thing."