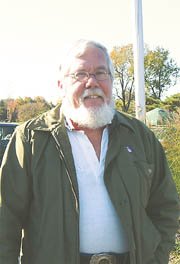 On Tuesday, Nov. 6, voters in Herndon had an opportunity to elect county and state representatives who will make political decisions in their name for the next two to four years. Some took the opportunity and others did not.
"I always try to vote," said Herndon resident David Kayden after he walked out of the polling place at Herndon Community Center on Tuesday, at about 10:40 a.m.
Donnell Williams, another Herndon resident voting at Herndon Community Center on Tuesday morning, said the only issue that brought him out to vote is his right to vote. He said he votes in every election. "I don't have a right to complain if I don't vote," said the seven-year Herndon resident.
After 35 years in the federal workforce, Williams said seven years spent in one community is a record for him. Voting helps foster a sense of community because it should represent where people stand on issues important to that community. "I'm a great believer in community," said Williams.
Bill Boning, the chief election officer at the Herndon Community Center polling place, said the flow of voters on Tuesday morning was "fairly steady." At 10:12 a.m. 327 people voted there. Boning, who has been an election officer for 13 years, said the number was representative of other years for this type of election, for local representatives.
"It's moderate, it's not heavy," said Tony DeBenedittis, about the voter turnout at the community center, where he was passing out campaign literature and offering refreshments to the voters since 4:30 a.m.
On the other side of Herndon, 275 people voted at Floris Elementary School by 9 a.m. The precinct chief election officer Nicholas Dorosheff said the number was average for that time of day in an "off-year" election. However, Dorosheff, a 12-year chief in the Floris precinct, was expecting a heavier turnout because of the close races in the precinct. "I was expecting a bit of a heavier turnout," he said. "It may still happen. It was raining this morning." He added that he expects that 1,200 to 1,400 of the precinct's 3,573 registered voters would cast a ballot by the closing at 7 p.m.
In 2003, a similar election year to this one, 28.5 percent of voters, 928 people, in the Floris precinct voted. At Herndon #2, Herndon Community Center, 27.1 percent of the voters, 1,273 people, voted.
Kayden cast his vote for the Democratic challenger Jay Donahue in the 86th Delegate District race. Donahue is challenging incumbent Republican Tom Rust. "I was bothered by negative campaigning on both sides," said Kayden. In the end, however, he voted for Donahue. Also voting for Donahue at the community center between 10:30 and 11 a.m., other than Donahue himself, was his neighbor Diane Marsden. She said transportation and local involvement with stemming out illegal immigration were the most important issues to her in the race.
At Floris, Herndon resident Dushanth Rereddy said the upcoming school redistricting debate motivated him to cast his vote. Without revealing his vote, Rereddy said it was important to make sure he had a voice in who will represent him.