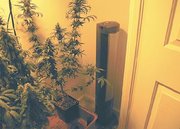 It is not known whether the assistant principal at Cub Run Elementary filed his alleged stash of drugs under "M" for marijuana, "P" for pot or "W" for weed. But Fairfax County police last week seized four Mason jars of marijuana from a filing cabinet in his basement.
Fairfax County Police contend that Leonard E. Marsh, 50, a Cub Run administrator for the past two years, had a marijuana-growing operation in his home. When they executed a search warrant there last Monday, Oct. 30, shortly after 9 p.m., they allegedly found an indoor "closet grow operation," along with packaged marijuana and drug paraphernalia.
Marsh, of the 9800 block of South Park Circle in Fairfax Station, was taken to the Adult Detention Center and charged with one count of manufacturing marijuana. He was released on a $5,000 personal-recognizance bond and has a Jan. 15, 2008 court date.
His wife Jinny, 56, was charged with possession of marijuana and released on a summons. Her offense is legally considered a misdemeanor; her husband's charge is a felony.
School system spokesman Paul Regnier said Leonard Marsh was a 14-year employee of Fairfax County Public Schools and is now on "unpaid administrative leave" from his job. As for Cub Run, Regnier further stated that "we have nothing that leads us to believe that the school was involved in any way."
Police say the search warrant was the culmination of an ongoing investigation into a possible pot-cultivating operation at Marsh's home. In the Oct. 30 affidavit for the warrant, a narcotics detective wrote that he began investigating such operations this fall and that Marsh's address became a "location of interest."
On Oct. 24, outside the property line for the South Park Circle home, he collected the discarded trash from that address. Upon inspecting it, he wrote, he reportedly "collected a suspected marijuana plant from inside a plastic garbage bag. [I] also recovered mail from the same garbage bag with the name Leonard Marsh and [Marsh's] address posted on it." The detective further noted that, when field-tested, that plant allegedly tested positive for marijuana.
In the warrant, the detective explained that people who manufacture marijuana usually keep marijuana, money, drug paraphernalia and growing equipment such as scales, measuring devices, timers and grow lights on hand. He stated that they also maintain financial records "reflecting amounts and kinds of illegal/controlled substances purchased, with amounts paid and received," and he wanted to search for any and all of these items in the Marsh home.
Police did, indeed, execute the warrant there. According to the inventory list of items seized, police found and confiscated four mason jars of marijuana from a filing cabinet in the basement. Also taken from that cabinet were a scale, packing material, records and documents and smoking devices.
From a workbench in the basement, police seized a jar, a marijuana smoking device, marijuana grinder, records and documents and two small containers of marijuana. Authorities also took "marijuana grow books" from a shelf by the workbench; a box of Mason jars from the basement floor; and marijuana, drug paraphernalia and records and documents from a bedroom.
In addition, police seized marijuana plants, a grow light and timers, as well as notes, records and documents from an upstairs "grow room."