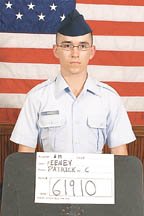 Send announcements, which are open to the public at no or minimal cost, to The Loudoun Connection, 7913 Westpark Drive, McLean, VA 22102 or e-mail to loudoun@connectionnewspapers.com. Deadline is Friday, two weeks before the event. Photos/artwork encouraged. For more information, call Jennifer Lesinski at 703-917-6454. For additional listings, visit www.connectionnewspapers.com.
Air Force Airman Patrick C. Feeney has graduated from basic military training at Lackland Air Force Base, San Antonio, Texas.
During the six weeks of training, the airman studied the Air Force mission, organization, and military customs and courtesies; performed drill and ceremony marches, and received physical training, rifle marksmanship, field training exercises, and special training in human relations.
In addition, airmen who complete basic training earn credits toward an associate degree through the Community College of the Air Force.
He is the son of Dennis Feeney of Eisenhauer Road, San Antonio, Texas, and Dee Kossan of Rabbit Run Terrace, Sterling. Feeney is a 2006 graduate of Park View High School, Sterling.
The U.S. Mid-Atlantic Regional Panel of the Royal Academy of Dance held its 15th annual Dance Day Oct. 28 at the University of Maryland College Park's Clarice Smith Center for the Performing Arts, providing area dance students the opportunity to take classes with several prominent guest teachers.
Liv Hutton from the Loudoun School of Ballet was named second runner-up for the Sylvia A. Druker scholarship. Emma Stockton from the Loudoun School of Ballet, was also selected as a finalist for the scholarship audition and won a drawing for free tuition to next year's RAD Dance Day.
Loudoun Volunteer Services (LVS) had huge success with its fourth Make a Difference Day, an annual event supporting the Community Holiday Coalition with generous donations from the community.
LVS began supporting the Coalition in 2004 as its service project for Make a Difference Day, a national event held on the fourth Saturday in October each year.
The initial goal for LVS was to collect 25 to 50 baskets from the community. The 2004 event resulted in over 400 baskets, so LVS set a goal of 500 baskets in 2005. More than 600 baskets were collected the following year, and nearly 1,500 were donated to the Coalition last year. With the generous support of the community and the overwhelming response from the public school community, more than 2,200 baskets were collected this year, saving the Coalition an estimated $77,000.
For more information about the Holiday Coalition and its continued need for donations, visit www.loudoun.gov/dss and click on "Feature Site." To learn more about Make a Difference Day, visit www.usaweekend.com/diffday/. Visit www.loudoun.gov/volunteer for current volunteer opportunities.
Michelle Frank of Loudoun County, manager of government relations at Orbital Sciences Corporation, was appointed to the Aerospace Advisory Committee and Roberto Calderon of Loudoun County, motivational speaker, was appointed to the Advisory Committee on Juvenile Justice by Gov. Tim Kaine (D).
Army Pvt. Christopher M. Cochran has graduated from basic combat training at Fort Jackson, Columbia, S.C.
During the nine weeks of training, the soldier studied the Army mission, history, tradition and core values, physical fitness, and received instruction and practice in basic combat skills, military weapons, chemical warfare and bayonet training, drill and ceremony, marching, rifle marksmanship, armed and unarmed combat, map reading, field tactics, military courtesy, military justice system, basic first aid, foot marches, and field training exercises.
He is the son of Bruce Cochran of Northbrook Way, Sterling. Cochran is a 2007 graduate of Dominion High School, Sterling
More like this story