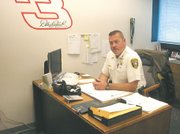 By the time he graduated from Mount Vernon High School in 1979, Clarke A. Stearns had seen a great deal of this nation. As the son of Col. Larry Stearns, U.S Army 82nd Airborne Special Forces, Clarke Stearns was on his own personal "second tour of duty" in the Alexandria/Mount Vernon District area on graduation day.
Following his birth in Munich, Germany, the family was assigned to Fort Sill, Okla., then to Fort Benning, Ga., then Fort Bragg, N.C., then Newport, R.I., where his father attended the Naval War College. Next came his first Alexandria "tour of duty" when his father was assigned to the Pentagon followed by another assignment to Bragg from 1964 to 1976.
It was in 1976 the Stearns family came to the Mount Vernon/Alexandria area for their final assignment, and where Clarke spent his high school years at Mt. Vernon High School. His father was assigned to the Joint Chiefs of Staff at The Pentagon from which he retired in 1983.
But all this hardly prepared Clarke for what the future would hold. He would become an integral part of America's date with destiny for the second time in 60 years. The life of Clarke Stearns and this nation's war on terrorism would become intertwined on a very personal level.
Following graduation from high school, Stearns entered Northern Virginia Community College majoring in Criminal Justice. He graduated in 1982 and began his law enforcement career with the Alexandria Office of Sheriff on April 26,1983.
"I was always intrigued by the police. My father always had an MP as part of his team. And, being a military family things were always strict and respectful," Deputy Sheriff Captain Clarke Stearns said, while sitting in his office at the Alexandria Jail on Mill Road.
"I was impressed with who police are and what they do. A friend of mine was hired here first and he convinced me to apply. I was looking at the Fairfax County Sheriff's Department but he said he thought there was more opportunity here," he said.
In Stearns's case, that proved to be an understatement.
FOLLOWING THE EVENTS of September 11, 2001, Alexandria's U.S. Federal District Courthouse became the setting for two of the most publicized cases of the 21st century's first global conflict. They were the alleged 20th hijacker, Zacarias Moussaoui, and California's John Walker Lindh, who some media dubbed "the American Taliban."
Both were incarcerated at the Alexandria jail and both were tried in Alexandria Federal District Court. Stearns oversaw both of their incarceration and their movements to and from the courthouse.
The events of 9/11 and the new global conflict had become a daily part of this self-described "military brat's" daily life, as well as that of his wife Lana and their son Ryan.
"There have been several individual cases that have come under my jurisdiction since 9/11, but these were the two most prominent — particularly Moussaoui," Stearns said. "Lindh was never a problem. He was always obedient and did everything he was told to do. He could almost be described as docile."
"That was not the case with Moussaoui. He would test you in different ways. He never refused to do what he was told, but I could tell he didn't like me very much. I guess that was because I was the one who told him when to do this or that," he said.
"I was this office's liaison with the U.S. Marshals for the Moussaoui case. My responsibility was to make sure he was ready for court everyday and to make sure he got to and from the courthouse safely," Stearns said.
"Moussaoui was with us for four and half years. But his trial for me was an 80-hour week for two and a half months. The Marshals would send in a new team every Sunday and I'd have to brief them on getting to and from court the next day. We'd vary the route and timing constantly," Stearns explained.
"One of things he did to bug us, particularly me, was not bathe. He knew the smell was annoying and seemed to take pleasure in that fact. He rarely left his cell, even for exercise in the jail gym," Stearns said.
But that didn't mean he did not keep fit. He would do regular exercises in his cell — push-ups, sit-ups and the like, according to Stearns. "He mainly concentrated on preparing for his trial and reading all sorts of things," he said.
Stearns has doubts about Moussaoui being the 20th hijacker. "He was not bright enough for one thing, and his personality was too erratic. He couldn't even pass the flight simulator test," Stearns said.
He also had many moments of complete irrationality — both in jail and in court — he would go off on wild tangents, according to Stearns. "I think that is one of the reasons he got life and not the death penalty," he said.
ONCE THE TRIAL was over on April 24, 2006, and the verdict and sentencing rendered, Stearns was looking forward to spending time with his family after those 80-hour weeks. But there was one more stop along this particular 9/11 trail — getting Moussaoui from Alexandria to Federal prison.
The date and time of his transfer from the Alexandria jail to Dulles International Airport for the trip to the Federal penitentiary was a closely guarded secret. "After all those long hours, I was looking forward to spending some time with my wife," Stearns said.
"We decided to go to the movies in Kingstown to see, of all things,'[United] 93,' the story of the fourth plane on 9/11. It was almost surreal — I'm sitting there watching this movie having been involved with the situation for so long," he said.
"I was also told not to turn off my cell phone because I had to be ready for a call to move Moussaoui. I put it on vibrate, but when it rings and you open it the light is there. It did ring twice and I got very annoyed looks from other patrons in the theater, who, of course had no idea of what was going on," Stearns said.
"The first ring they told me to be at the jail by 11 p.m.; that they were moving him that night. Then they called back and said it had been moved to midnight," he said.
"I got to the jail and got Moussaoui ready to go. It was pouring rain but the Feds brought a Black Hawk helicopter into the parking lot at Hoffman complex on Eisenhower Avenue. We loaded him aboard and they had him at Dulles in 11 minutes. There was a jet waiting. He was taken to the jet, they got clearance, rain and all, and he was gone. It was May 12, 2006," Stearns recalled.
AFTER FOUR AND HALF YEARS the life of Captain Clarke Stearns could return to the normal array of murderers, robbers, drug dealers, and other sundry inmates of the Alexandria jail. In addition to getting back to a more normal family life, he also could return to his other two passions — NASCAR and bass fishing on the Potomac River.
On the wall of his office is an extra large poster of Dale Earnhardt's famous black race car. "I have been an Earnhardt fan all my life. Having lived in North Carolina all those years I attended the races regularly," he said.
"Also living along the Potomac River for so many years, both as a
child and adult, I got to really love fishing. I know parts of the river that few others know," Stearns said.
He presently has an 18-foot bass boat. "But, I'm thinking of possibly upgrading to a 20-footer. I heard of one that might be for sale," he said.
That penchant for "upgrading" doesn't only apply to his bass fishing. "I've done it all since I joined the department. Now I'm scheduled to become the head of the Work Release Program. It's the only thing I haven't done yet," said the 46-year-old Stearns.
That was buttressed by Undersheriff David Rocco. "I've known Clarke since the day he came here. He's a dedicated, resourceful professional," he said.
"He's got a great heart and he won't ask anyone to do anything he wouldn't do himself. And, he will also go out of his way to help people," Rocco said.
Stearns's rise through the ranks has been no surprise to Captain James Robie. "I was his first Sergeant. He worked for me as a rookie and I have watched what he has grown into. Now, he holds the rank of Captain," he said.
"He's not only a real professional but he's also a great guy. And there are only a handful of people I can truly say that about," Robie explained.
It seems that Clarke Stearns' intrigue with law enforcement has rubbed off on the next generation. Son Ryan, age 20, is enrolled at NOVA studying Criminal Justice. He is also a graduate of Mount Vernon High School, Class of 2006.
Clarke's father died at age 74 on December 14, 2001— three months after 9/11. He did not witness the events that would play a major role in shaping his son's career.
But, as a Green Beret, he probably would not have been surprised by his son's actions — just proud.