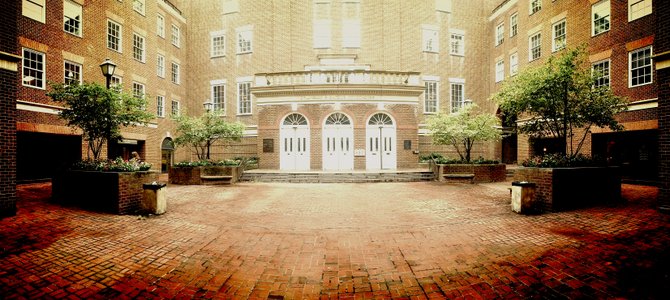 Deputies at the Alexandria Sheriff's Office say Bryant Duane Pegues was a quiet man, someone who got his work done and did not draw much attention to himself since he was hired in 2007. That's why they were shocked and dismayed to learn that the 52-year-old Oxon Hill man had been fired from his job at the city jail and charged with raping an inmate.
In a brief court hearing Wednesday morning, Commonwealth's Attorney Bryan Porter said video evidence shows Pegues entering the cell of an adult female early Tuesday morning, between 5 a.m. and 6 a.m. Once inside, she told another deputy at the jail, he forcibly raped her using an ink pen as a weapon. When Pegues was confronted by investigators, he admitted to having sex with the inmate but described the relationship as consensual. Porter told General District Court Judge Donald Haddock that investigators are currently analyzing physical evidence that would corroborate some kind of sexual contact happened between the deputy and the inmate.
"This is a very serious offense," said Porter. "You have someone in uniform allegedly forcibly raping someone who is an inmate at the jail. So under those circumstances I think bail is inappropriate."
Judge Haddock agreed, and denied bail for Pegues, who took part in the hearing from a secure video hookup from the Arlington Detention Facility where he is being held. Pegues has been assigned a public defender, and the preliminary hearing has been set for July 9.
"The criminal actions of Bryant Pegues are a grave violation of the public trust," said Alexandria Sheriff Dana Lawhorne in a written statement. "We will continue to assist Alexandria police and the commonwealth's attorney as they pursue a successful prosecution."
PEGUES IS NOT the first sheriff's deputy to face these kinds of charges at the city jail. Back in 2003, sheriff's deputy Eric Mayo was charged with having sex with two inmates who were under his supervision in a work-release program at the Alexandria jail. During the trial, one of the victims testified he asked her to sit in the back of a movie theater at the AMC Hoffman Center and perform oral sex on him as the film "Monster's Ball" played on the screen. Mayo, who was 33 at the time, was sentenced to six years in prison.
"We were very pleased because this was exactly what we asked for," said Assistant Commonwealth's Attorney Tim Callahan at the time.
Now the Sheriff's Office once again finds itself in the crosshairs as another deputy faces similar charges. Police are charging Pegues with two counts — rape and carnal knowledge of a prisoner. At the request of the Alexandria Police Department, the Sheriff's Office had not yet released the mug show of Pegues at press time.
"We are still investigating," said Crystal Nosal, spokeswoman for the Alexandria Police Department. "We are waiting to see if there are any more victims."