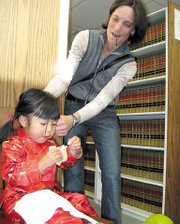 Sharon Dimberu and her husband had long talked about adopting a child, but Saturday was the first time they looked into the adoption process, she said. "It's just something we thought God placed in our hearts," said Dimberu, among the tables stacked with information in the Loudoun County Courthouse Law Library.
Adoption lawyers, six adoption agencies and the Loudoun County Department of Family Services were on hand to pass out information and answer questions at the second annual Loudoun Adoption Day, sponsored by Family Services and the local chapter of the Virginia Women Attorneys Association.
"So far, we've been finding it very helpful," said Dimberu. She said she and her husband, Eyob, were especially interested in adopting a child from Ethiopia, Eyob Dimberu's homeland. The Ashburn couple already has two biological children.
"It's kind of a myth that only infertile couples adopt," said Karen Law, a member of the Women Attorneys Association and one of the Adoption Day founders. In her work as an adoption attorney, she said, about half of the families she works with already have biological children.
Dimberu said she wanted to make life easier for a child without a home. "Me, my husband, my family, we have the power to do that," she said. "Every child is so innocent when they're born."
LAW SAID MORE than 50 people had turned out for the event by the end of the third hour.
Christine Mougin-Boal, another attorney, said she decided about three years ago that Loudoun ought to stage an information fair on National Adoption Day, as some other jurisdictions did. At the time, she was president of the Loudoun chapter of the Women Attorneys Association, and she and Law, along with fellow attorney Carine Moegling, decided to make it happen.
"Many times, adoption is kind of a scary thing," said Mougin-Boal, noting that couples often worry about being too old to adopt, as well as fretting over the cost and the process. However, she said, adoption is achievable for almost any couple.
"If you want to adopt, you probably can. You just have to find the right path," she said.
She has two adopted children and said she enjoys doing adoption work for other couples. "As a lawyer, you do a lot of divorce work," she said. "But with adoptions, we put families together."
One of the people helping couples figure out how to adopt was Toni Benton, of America World Adoption Association, which assists in the adoption of children from China, Russia, Ukraine, Kazakhstan, Ethiopia and El Salvador. With Benton was the oldest of her four adopted children, 5-year-old Abby. Like her adoptive siblings, Abby was born in China. "For our family, we think adoption is not plan B. It's plan A," said Benton. "Nobody should grow up in an orphanage."
She said the adoption process usually takes between one and three years and costs anywhere from $20,000 and $50,000, depending on the child's country of birth, since different countries have different processes. She noted that the U.S. government grants a $10,500 tax credit to adoptive parents.
CARINE MOEGLING not only helped to organize the event but also participated in the morning's closed Adoption Day ceremony, where adoption orders and certificates were presented. Her and her husband's adoption of a Russian boy was finalized in Russia a year and a half ago, but the couple got a birth certificate in English at the ceremony Saturday.
Moegling, too, has a biological child, a 4-year-old boy.
"It's always been in our hearts to expand our family through adoption," she said. The Dulles-area couple is now in the process of adopting a Russian girl.
Michael and Jacquelyn Dickey of Broadlands had their adopted 3-year-old daughter, Ariana, in tow at the event. The couple has a 13-year-old biological child, said Michael Dickey. "It kind of stopped there for some reason." Three years ago, the family made a collective decision to adopt a child, he said, and about a year later they brought Ariana home from China.
He said the adoption process had not been especially difficult, although it entailed a "kind of extensive paperwork drill." He noted that the effort was worth the reward. "If we wanted another kid, we would do it again and I would recommend it to anybody."
Austin Dickey was a member of the Eagle Ridge Middle School Jazz Band Ensemble that provided entertainment at the event. "That's really why we're here," said Michael Dickey.
Another of the entertainers was Laura Kowalczyk Richards, who read the book she and her adopted daughter co-wrote, "Guess Who's Adopted?" She noted that among the celebrities who were adopted are Bill Clinton and Superman.