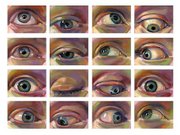 Scott Hutchison is presenting only five works in his gallery show "Animated Portraits," currently showing at The Waddell Art Gallery on the Loudoun County Campus of Northern Virginia Community College.
"There are only five pieces in it, actually — but there's over 200 paintings," he said.
The animation in Hutchison's works is a combination of traditional painting and digital technology. Dozens of paintings will portray one aspect of the artist's face — an eye, his lips — and alter slightly from one panel to the next. If they're combined digitally into sequential images, like some are on small LCD screens, they become like an oil-painted cartoon.
Hutchison, a resident artist at the Arlington Art Center and an instructor at The Art League, said his work "I Don't Know" is a series of 42 paintings of his mouth that, when viewed together, move almost like stop-motion animation.
"It's kind of like a flipbook, but it's digital," said Claire Huschle, executive director of the Arlington Art Center. "He'll do hundreds of digital portraits and then it's like animated oil paintings."
It's not traditional animation, as Hutchison said he prefers the detail of each individual painting rather than the quick frames-per-second of the traditional medium. Rather, he sees his paintings as interactive for the viewer.
"It's nothing you can really touch," he said. "You can see, in your mind, the animation play."
Frequently, that animation is a window into the artist's mind.
HUTCHISON GREW UP in a small Iowa town, receiving a bachelor's in painting from Drake University in 1995 and a master's from George Washington University in 1999.
Huschle said having Hutchison, 34, at the Arlington Art Center is an example of the Center's dedication to present diverse artistic talent. In his case, she said, Hutchison is combining a classic medium in oil painting with new technology.
Hutchison is also an adjunct professor of drawing at George Washington and an adjunct professor of painting at Georgetown University, along with his work as a faculty member for The Art League in Alexandria since 1997.
"It's pretty isolating in my studio. [Teaching] has helped my artwork, because I have to work out of pieces verbally," said Hutchison, who now lives in Fairfax.
His isolation is also due to the fact that Hutchison doesn't interact with many models and collaborators — the majority of his art is in self-portrait, and self-examination has always been one of his aims.
"For me, I've always seen art as being that, whether I'm painting a still life or even painting someone else. It's something I do alone; since I'm along in my studio, the best model was 'me,'" he said.
"I take a break when the model takes a break."
HE STARTED HIS current body of work, like the pieces showing at The Waddell Art Gallery, back in 2003. The gallery's curator, Donald Depuydt, took part in a show with Hutchison at the Arlington Arts Center in 1999 and invited Hutchison to have his pieces at the NVCC Loudoun campus, located at 1000 Harry Flood Byrd Highway in Sterling.
Before his current work, he painted a series of striking female nude portraits and went through a phase exploring the relationship between metal, machines and man — a science-fiction influenced collection that was partially a reaction to the technological boom of the 1990s.
Now, with a focus on identity and introspection, Hutchison brings his own body into honest focus in his art.
"In some of the ways I've presented myself, you need to put the ego aside. I don't present myself in the best way," he said.
In his paintings, which can be viewed on www.scotthutchison.com, Hutchison presents unflinching and exaggerated portraits of his own body.
Self-examination comes naturally, he said, but there are still some personal barriers he's yet to break down.
"I'm still working through that. I've painted nude models before, I'm not to the point where I feel comfortable doing that with my own body," he said.