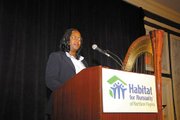 When Marsha Cecil, who was living with her son and daughter in a small, two-bedroom apartment in Alexandria, got a flyer in the mail from Habitat for Humanity of Northern Virginia in the mid-1990s, she thought, "I'm just going to send this in and see what it's about," she recalled. She had been seeking information but got an invitation to the group's orientation. Soon, her application process had begun.
Last Thursday, Sept. 27, Cecil, now the owner of a townhouse in the Hybla Valley area, was the keynote speaker at Habitat for Humanity of Northern Virginia's fifth annual Benefit Breakfast, held at the McLean Hilton. During her talk, she said, "I told how appreciative my family and I are of Habitat." She said she also told the crowd "how the stability of homeownership and being in a safe and secure environment resulted in my children's success."
Habitat for Humanity is a nonprofit, Christian housing ministry that uses volunteers and donations to build and rehabilitate homes, with the help of the homeowners-to-be.
Prior to their five-year stay in the Alexandria apartment, Cecil and her children had been homeless for some months. When they moved in, her son slept in Cecil's room, she said, "but when a boy gets to be a certain age, that's not appropriate anymore."
Their new home on Lockheed Boulevard, which began construction around the end of 1996, was part of Habitat for Humanity's first use of townhouses in Northern Virginia, and five of the eight homes on the property were built at once. Cecil described some of the building process.
How much work got done on any given day depended on the number of volunteers who showed up, "and we had a tremendous amount of volunteers," said Cecil, noting that college students came to help, as well as members of church groups, AmeriCorps and other organizations. Also working were the homeowners and their friends and families. The new homeowners are required to put in hundreds of hours of "sweat equity" to earn their new homes.
ELECTRICITY AND PLUMBING were handled by professionals, but the homeowners and volunteers, under the supervision of Habitat for Humanity employees, worked on framing, insulation and drywall. "I enjoyed insulation probably more than most normal people," said Cecil. "The only thing I didn't do was, when the house was completed and they were putting shingles on the roof, that was a little high up for me."
"Just to see how much change came about from one week to the next, it was mind-boggling," she said. Work was carried out on Wednesdays and Saturdays. The house was completed in about a year, and the family moved in during January of 1998.
New homeowners pay for the houses, but the homes are made affordable because much of the material is donated, the land is paid for, and the houses are sold at no profit, on 20- to 30-year loans.
Cecil said she thought the security provided by her homeownership helped her children in several ways, such as not having to worry that they might have to leave if rent went up. "When there are problems in a single family home, you hear stories about the kids getting into trouble, joining gangs, getting pregnant," she said. "They didn't fall prey to any of those situations, and I think that's because they had stability at home." Also, she said, the experience taught her children the value of helping others and "that hard times don't last forever, that you can overcome and succeed."
CECIL'S SON just finished a year of college and is the assistant coach for the freshman football team at West Potomac High School. Her daughter recently graduated from George Mason University and works at a nonprofit organization in Washington, D.C.
"It also gave me a great degree of security," said Cecil. "I took extremely great pride that I was part of building my own home, and to be a homeowner."
Until her work schedule became hectic over the last couple of years, Cecil said, she worked on almost every new Habitat for Humanity site in Northern Virginia, and her daughter volunteered at a couple, as well. She added that, although she hopes to pick up a hammer at another site soon, she has set a goal for herself to one day sponsor or co-sponsor a house, "to in some way have a part in making it possible for someone else to become a Habitat homeowner."
"It's what we're here for, is to help each other," said Cecil. "When good things happen to you, you're supposed to spread it."
The breakfast where she spoke raised something in the neighborhood of half a million dollars, said Habitat for Humanity spokesperson Virginia Patton. "Marsha did an excellent job of telling her story," said Patton. The event was attended by about 650 people, and 52 of them volunteered to be "dream-builders," donating $1,000 per year for five years. A local benefactor offered to match each dream-builder's first $1,000 if Habitat could recruit 50 or more of them, Patton explained.
Frank Palmer, who described himself as a retired resident of Northern Virginia, said he pledged to match the dream-builders' first-year funds "because I believe in the mission. I very much want to help low-income people achieve the American dream."
Palmer said he has been a Habitat for Humanity donor for about 10 years and also works with Fairfax Area Christian Emergency and Transitional Services (FACETS).
He noted that Cecil's speech was "very moving. It inspires me to continue my work with Habitat."
According to Cecil, the donations will not be difficult to spend. "Sadly, my story is not a unique story," she said. "There are a lot more people needing affordable housing than there is affordable housing."