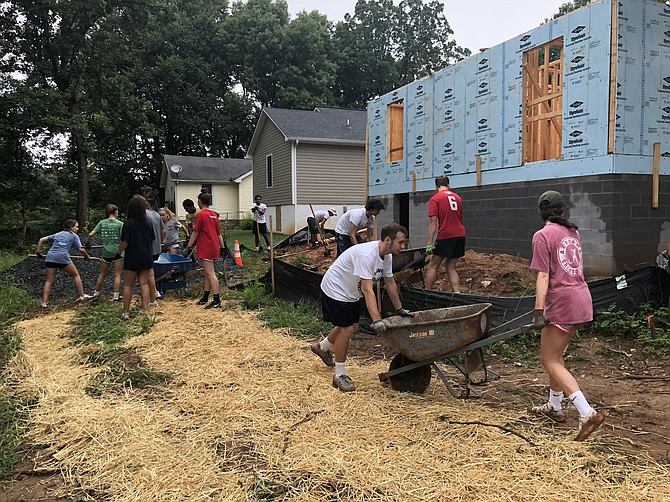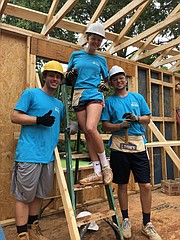 The Great Falls Rotary Interact Club went from digging and filling drainage ditches to helping raise a roof at the group's third Habitat for Humanity service project in Lynchburg, Va. The 17 club members, ranging from 16-18 years old, traveled to the central Virginia site Sunday, July 22 and returned home July 25.
While there, the teenagers learned from and worked with the seasoned Greater Lynchburg Habitat construction teams on a house built in memory of longtime Habitat volunteer/builder Ann Marie Myers. Ms. Myers was a special part of the "Women's Build" group.
THE INTERACT CLUB MEMBERS also worked alongside the soon-to-be homeowner, Akira Saunders. "They have been working so hard," Saunders said as she worked with the team on site, "This warms my heart that they would do this." In addition to receiving interest-free loans from Habitat, homeowners like Saunders must volunteer at least 200 hours helping build Habitat homes as a precondition to purchasing.

Executive Director of Greater Lynchburg Habitat for Humanity Donna Vincent said the Great Falls Interactors bring help that is vital to their organization. "With cheerful demeanor and without a single complaint, they dug in some of the hardest ground on the planet in order to place drain tile in it. They waterproofed a foundation. They lifted roof trusses into place," said Vincent. "They had really thoughtful questions, clearly aimed to gain a deeper understanding of the Habitat for Humanity mission. We will look forward to some of them returning next year for the fourth Great Falls Interact Youth days here at Greater Lynchburg Habitat."
Twelve of this year's Interact group graduated from high school this year. Five of them — Ashley Baradari, Chloe Bennett, Thompson Brownlee, Jared Tewodros and Declan Thinnes — have volunteered at every Habitat service trip.

"The Habitat trip was such a special experience," said Ashley Baradari. "It was so great to see everyone working together to put the roof up and I couldn't be more proud of such an amazing group. I'm so glad I got to go on this trip one last time with everyone."
THE FIVE NEWER MEMBERS said they learned so much from this first build. "It was a great experience to help others and see what goes into actually building a house," said Juliana Wilhelmy, one of next year's Interact co-presidents. "I learned skills like using a power drill, and it was all thanks to the kind and patient volunteers who took the time to teach all of us. It was also awesome to see the Lynchburg community come together to support Habitat through meals from the church groups. I'm so happy that I had the opportunity to go and meet all of the wonderful people working with Habitat and help a family build a home."
Interact clubs are sponsored by Rotary International, a global service organization that operates through a local club, the Rotary Club of Great Falls. Interact is for 13-19 year-old teens. The Interact Club engages in many charitable activities throughout the year, such as canned food drives for local food banks, and fundraisers like car washes and bake sales to raise money for service projects such as the Habitat for Humanity project. The Interact Club holds bimonthly meetings near the Great Falls village center.
For more information on Interact or Rotary, visit
http://greatfallsinteract.com/ or email: greatfallsinteract@gmail.com