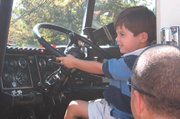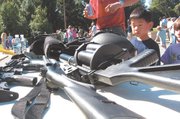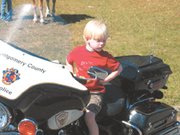 Once a month, give or take, the Montgomery County Police SWAT team sends in its Emergency Response Team to respond to hostage and other standoff situations. The members of the highly trained unit gear up with their bulletproof vests, don helmets and goggles, grab their assault rifles and shotguns, then pile into their two armored trucks and race to the scene of the crime.
On the morning of Saturday, Sept. 29 the group was suited up again, and this time they were scaling walls and keeping a keen eye on a crowd of onlookers. Only this time the scene was the parking lot of the Montgomery County Police District One station, and the doors to their armored vehicle were wide open for visitors to enter and explore. The SWAT team truck was one of many such sights on display as the District One station was open to the public during its third annual open house.
"It's a way to introduce the community to the police station and the officers," said Michael Prather, a community services officer with the county police. The event was geared toward children in particular, with the intention of showing police officers as people who can be approached and talked to, Prather said.
"At the same time we can show off our stuff," Prather said.
The day was a blend of entertainment and hands-on exploration and learning. There were demonstrations by bomb-sniffing dogs and repelling SWAT team members. In addition to the SWAT truck there was a fire truck, a Mobile Command Center, a police car, and motorcycles that were on hand to be explored and photographed. Because the day was geared toward children and families there was also a clown, a moonbounce, a ride and a snow cone stand.
Tim Dorsett and his son Nicholas came out to see the SWAT team in particular.
"He loves all the military stuff," said Tim Dorsett of his son. Nicholas Dorsett said that apart from the repelling demonstrations and the arsenal of weapons that was on display, the Mobile Command Center, a bus, was his favorite part of the day.
"They have all this surveillance equipment in there and you can see everything that's going on," Nicholas said.
Four-year-old Ethan Uffelman of Potomac sat astride of a Harley Davidson police motorcycle and said that he wants to be a policeman when he grows up.
"He especially liked the guy scaling the building," said his grandmother. "He says that's what he wants to do."
Officer Bo Curry showed a crowd of onlookers the process that he goes through with his 8-year-old black Lab — also named Bo — in sniffing out explosives. Bo the black Lab sniffed three items, and when he found the box filled with TNT he sat down and barked. Sitting down is the proper response, though Curry said that he is teaching Bo not to bark.
"I try not to make him bark because some explosives — people in other countries have made explosives that go by sound," said Curry.
Curry said that after 32 years he still loves being a police officer.
"It's a blast, man, this is the best job in the country," Curry said.
That type of enthusiasm was just what Prather said was the point of Saturday's open house.
"It's a chance to show [the public] a fun time and to educate them as well," Prather said.