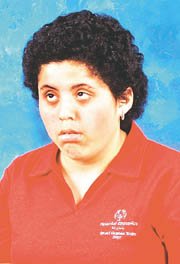 Evelyn Aguirre's athletic skills are taking her to China. Evelyn, 17, has been involved with the Special Olympics for six years and this year will compete in the track and field portion of the World Games in Shanghai, China. Evelyn, who is legally blind, joins seven other Virginia athletes — and 400 other athletes from across the U.S. — in the games, which started Tuesday, Oct. 2 and run until Oct. 11. The Fairfax High School student is this week's People Profile.
How long have you lived in the Fairfax area? Ten years.
Family: Carlos, dad; Francisca, mom; Carlos, brother, age 11; William, brother, age 9; and five goldfish.
School: Fairfax High School.
Favorite school subject: Math.
When and how did you first get into sports? I got involved in sports and Special Olympics in elementary school, when we lived in Fairfax Villa. I wanted to have fun, do my exercise and run.
What is your favorite thing about soccer? Being the defender and getting the ball.
Favorite thing about track: Running fast and getting gold medals and ribbons.
What are some of the challenges you have faced in playing sports, and how have you overcome them? It's hard to see the lines on the field sometimes, but I try my best and I don't give up.
What are your community concerns? What are some ideas you have on ways to improve your community? In school, I wish they'd make the locks on the lockers bigger so I could see the numbers better.
What is the last movie you watched? Watch TV, especially the shows in Spanish.
Where do you like to "hang out" in the community? I like to hang out in my room and play music. I like to sing along to Spanish music all day and night.
If you were to take a road trip anywhere right now, where would you go? Disney World.
What do you hope to accomplish at the Special Olympics? I hope to get a medal and a trophy. And in China for the Special Olympics World Games, I hope to meet new friends, too.