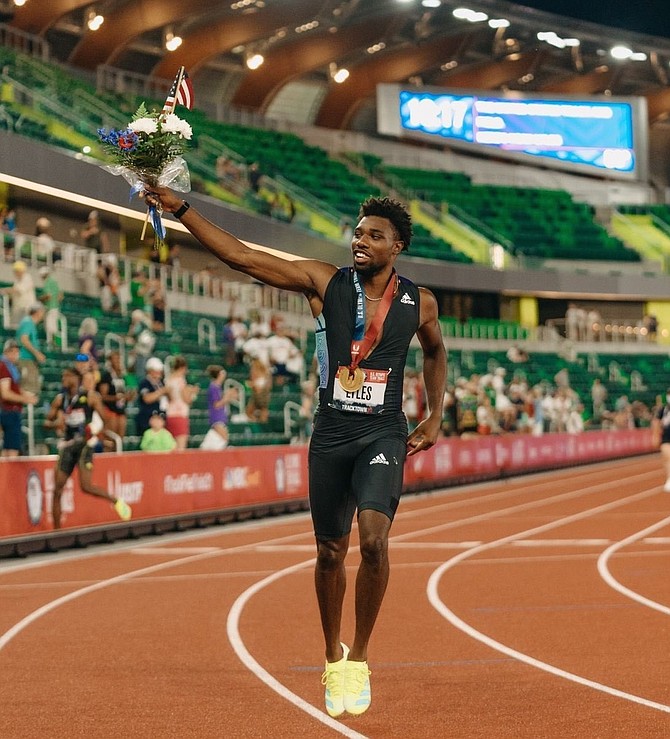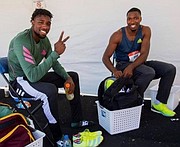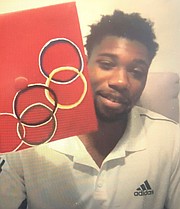 Only a few short years ago, Noah Lyles could be seen warming up to the strains of James Brown's "I Feel Good" as he trained on the track of Parker-Gray Memorial Field at what was then T.C. Williams High School. Next month, the world becomes his stage as Lyles heads to Tokyo as part of the U.S. Olympic Track & Field team.
"I don't think anybody could prepare you for the lion that you have to slay at the Olympic Trials," said Lyles during a press conference following his victory in the 200 meters in Eugene, Ore. on Sunday, June 27. "It's not World Championships, it's not U.S. Championships, this is the hardest team to make and everybody here shows it."
Lyles, the reigning world champion, ran the 200 meters in 19.74 seconds – the fastest in the world this year – making him the gold medal favorite as he heads to Tokyo. He had disappointing seventh-place finish in the 100-meter race.
The son of Keisha Caine Bishop and Kevin Lyles, both Track and Field athletes at Seton Hall University, Lyles, 23, was joined at the trials by his younger brother Josephus Lyles, who fell short of making the Olympic team.
With his victory and the expectation that he will run on the U.S. 4x100 relay team, two gold medals are within the grasp of the 2016 T.C. Williams graduate. Lyles joins boxer Troy Isley as the second Alexandrian headed to Tokyo.
Lyles, who now calls Florida home, set his sights on the Olympics when he was in the eighth grade. He fell one place short in his bid to compete in the 2016 Rio Olympic Games as a high school senior.
He shared some of the adversities he faced in his quest to become a professional athlete during a commencement address he delivered during last year's virtual graduation ceremony for T.C.
"I was born with severe asthma," said Lyles, who turned pro directly out of high school. "Can you imagine a track athlete with asthma? But I persevered. I wanted to make a whole new path for myself."
Lyles also spoke of his dyslexia, ADD and experiences with bullying.
"It wasn't an easy path," said Lyles, who proudly held up his own graduation cap adorned with the Olympic rings. "But I didn't want to be another child who just goes through the motions. I wanted to create my own destiny and facing those adversities is what got me here today."
The charismatic Lyles is being compared to track great Usain Bolt and is already running faster than Bolt did at the same age.
"Yes, it's nice to be fast, but what could take you over the top?" he is quoted as saying in his Olympic profile. "Usain Bolt, household name. Transcended the sport. Michael Phelps, swimmer, transcended the sport. What is going to take you from being just popular in track to being popular in the world? By being different or by being you. You can't get to that point by being somebody else."
The Tokyo Olympic Games begin July 23 and run through Aug. 8. Track & Field events begin July 29 and culminate Aug. 7.
Arlington swimmer Torri Huske broke her own American record in the 100m butterfly at the Olympic trials on June 14, and will also compete at the Tokyo Olympics.