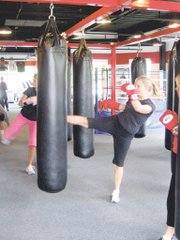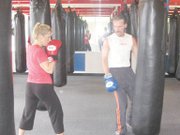 It's just after noon Thursday, Sept. 20 and the LA Boxing gym in Ashburn is filled with a cacophony of sounds. Loud, thumping music fills the gym mixing with the staccato breaths and grunts emanating from the boxers. The smell of sweat and the heated leather from the gloves and heavy bags hangs in the air. The students punch, kick and knee their heavy bags in the even rhythm of a true boxer. This kickboxing class is not made up only of tough men and seasoned fighters, however. Instead, this class, and most of LA Boxing's classes, is made up of women, many of whom had never stepped foot in a ring before LA Boxing opened at the beginning of the year.
"A lot of women will come in intimidated because they hear the word boxing," Craig Fladager, general manager of the gym and former Golden Gloves competitor, said. "You're training to learn real techniques, but it's really for fitness."
IT WAS THE fitness aspect of boxing that first attracted Ashburn mom Laura Richards to the gym last spring.
"They do not neglect a single part of the body," Richards, a mother of four, said. "You know you are going to get one solid hour where we come in and know with effort, we're going to burn about 1,000 calories."
Soon after starting, Richards, who now comes to the gym several times a week, turned several of her friends on to boxing.
"Now there's a whole group of us moms who box," she said. "It's just a great mom thing."
ANNE PENNINGTON, who lives in Ashburn with her husband and two children, said she started boxing because her doctor told her she should exercise to release stress.
"I started coming with a friend," Pennington said. "I'm here three or four times a week. And it is definitely a stress reliever."
Fifty-eight percent of LA Boxing's clients are women, Fladager said, and stress relief is a big part of what keeps them coming in.
"Women need an outlet," he said. "They do a lot in their lives. When they walk out after a class, they've relieved that tension."
Richards said her time in the boxing gym is hers alone and her opportunity to get out any of the feelings that build up during her every day life.
"As a mom," she said, "this is my therapy. And there truly is something therapeutic about it."
TAKING A BOXING or kickboxing class is not all about the therapy, however, since a former fighter teaches every class.
"A lot of local instructors will come here to learn techniques to take back to their classes," Fladager said. "We're actually teaching how to properly throw punches."
Every class begins with 10 minutes of stretching and calisthenics, including skill drills in front of the mirror. The bulk of the class is then spent on the heavy bags, working punch and kick combinations.
The classes fit people of all skill levels and athletic abilities, Fladager said, because beginners can focus on punching techniques while more advanced students can work on the strength and speed of their punches.
"Beginners can truly take classes with more advanced fighters," he said.
"People hear boxing and don't want to give it a chance, but they don't realize that there are the bags, the equipment," Pennington said.
Pennington admits that she was not athletic before she began boxing and now she craves the workout she gets during a boxing class.
"I feel stronger," she said. "Now it's addictive almost, when I can't come, I'm upset."
THERESA BISHOP, who lives in Ashburn and got into boxing after seeing the shape that her husband's friend was in after training for a fight, said the workout gives her and the other women more than just a strong body.
"I was watching the news the other night and they were talking about taking a self-defense class," she said. "And I realized I do that already here."
Fladager said the techniques of kickboxing are not taught in the same way karate is taught. Instead, he said, the class involves a number of self-defense moves.
"A lot of it is in the knee or the elbow," he said. "Things you can implement elsewhere."
Richards said that her boxing training has made her more confident in her ability to protect herself.
"I feel I could defend myself if, heaven forbid, something were to happen," she said.
"Some of the things they teach are about what to do if someone comes at you," Pennington said. "Most women join for the notion of burning that many calories, but it's so much more."