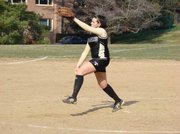 In E.J. Thomas' 25 years as a head softball coach and pitching coach at Paul VI, he has never seen a pitcher throw a perfect game – until senior pitcher Julia Moore stepped into the circle against Holy Cross on March 14. Moore didn't allow a singe base runner in the Panthers' 12-0 win over the Tartans.
"To go an entire game and not walk anybody and have no errors and have no hits," said Thomas. "Everybody has to be on top of their game. That's why they are so rare"
Moore, who struck out 406 batters during her sophomore and junior years, didn't allow many Tartans to get their bats on the ball, striking out 14 of 18 batters.
Thomas started to get nervous in the fifth inning when he realized that Moore was on the cusp of something special. He held his breath at every 3-2 count, winced when the ball was put in play.
"There were quite a few instances in the game where I was holding my breath," he said. "I was so nervous that I couldn't even breathe the last couple of innings."
<b>THERE WERE NO</b> nerves from Moore, however. In fact, the senior pitcher didn't even know that she was approaching perfection.
"I honestly had no idea until after the last batter," said Moore, a resident of Clifton.
After retiring the 18th and final Tartan, senior third baseman Kat Naylor ran over and congratulated her best friend.
"[Kat] came over and said, 'Julia, do you realize that that was a perfect game?' I honestly had no idea," said Moore. "I think that is good, because if I knew, I would have been nervous."
"She knew that she was pitching a great game, but I don't think that a player ever really realizes the implication of not being able to walk a batter," said Thomas. "To them, it is just another batter."
Moore, a two-time first-team all-Washington Catholic Athletic Conference selection, has started in the circle for the last two years, after sharing time as a freshman. She posted a 44-18 record during the last two years, with and earned run average under 1.00 both years.
"She is one of those people that everybody wants to play for. She leads by example," said Thomas of his senior captain.
Moore is also the Panthers' cleanup hitter, getting two hits against the Tartans and posting a .368 batting average last year.
"When you need somebody to give you a hard single up the middle and drive in some runs by hitting a ball in the gap, Julia is the one that will come through for you," said Thomas.
<b>SO HOW DOES</b> one follow up perfection? In Tuesday's game against St. Johns, the Panthers' first WCAC game since Holy Cross, Moore came two outs from recording another perfect game, settling for a no-hitter.
"For me, in the pitching circle, I try to lead by example," said Moore. "Leading by example is more of my style."
For Thomas, the way that she plays and the example that she sets speaks volumes.
"She is one of those kids that comes along once in a great while," he said.