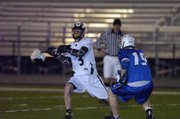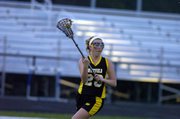 The Westfield boys and girls lacrosse teams had two very different statements to make during their Friday night doubleheader against Fairfax. Coming off of a 7-6 loss to Oakton in which the Cougars scored the tying and go-ahead goal in the final minute, the Westfield boys wanted to come out and prove that they are still the team to beat in the Concorde. The Bulldogs' girls, fresh off of a 14-10 win over the two-time defending state champion Oakton girls, were looking to prove that their victory wasn't a fluke.
Both teams got their point across as the Bulldog boys took a commanding 8-1 lead into halftime, en route to a 12-2 win over the Rebels. Likewise, three different Bulldog girls scored hat tricks in Westfield's 15-8 win over Fairfax.
"We definitely had a chip on our shoulder [after the Oakton game] and we wanted to come out and show [Fairfax] the team that we are," said sophomore midfielder Eric Alter, who scored five goals with an assist.
The Bulldogs (5-2, 3-1 Concorde) showed their offensive prowess early, netting two quick goals in the first quarter to take a 2-0 lead. The second half featured six more goals, which gave the Bulldogs a commanding lead on the Rebels.
"They were upset because they knew that they blew it [against Oakton]. It meant a lot to them. It hurt them," said Westfield head coach Gary Malm. "They didn't win the game, we lost the game. That was how I felt."
The stout Westfield defense held the Rebels (4-2, 0-2) in check, allowing just one goal in the second quarter and one more in fourth.
"We just weren't getting any movement on offense," said Fairfax head coach Barry Ellison, who watched a 3-1 game move out of reach in the second quarter.
The Rebel boys stand with a 4-2 record, but have yet to garner a win in Concorde District play.
"The next district game, we just have to get tougher," said Ellison. "They know that it is a process. I know that it is a process. We are going to continue to build from there."
<b>THE WESTFIELD GIRLS (7-0, 4-0)</b> had a similar fast start, jumping out to a 8-0 lead before the Rebels were able to get on the board. The Bulldogs used crisp passes – a game-changer against Oakton — to find the open shooter.
"We have some depth," said Westfield girls head coach Jim Dwyer. "We have plenty of shooters. "
Seven different Bulldogs found the back of the net, led by three goals from junior midfielder Amanda O'Sullivan, senior midfielder Kelley Megale and senior attack Meredythe Fallon.
"I have faith in everyone on our offense," said O'Neil.
The Rebels (3-2, 0-2) began to mount a comeback in the second half, outscoring the Bulldogs 6-2, but Westfield lead was too great.
"It was clear in the second half, they were playing a lot more aggressive. They just stepped up. We are a second-half team," said Fairfax head girls coach Stephanie Dagley.
The undefeated Westfield girls, having usurped the Cougars for one of the top spots in the district, now run the risk of overconfidence. Dwyer, however, isn't worried.
"We always stress not to be [overconfident]. It's the Concorde District," he said, noting that a faceoff against Chantilly looms in the future.
O'Neil, however, feels good about the Bulldogs' chances.
"I feel really good about our team right," she said.