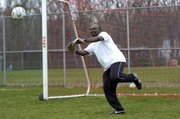 Even though Simon Addo was born thousands of miles away, he is right at home on the soccer fields behind Holmes Middle School in Alexandria on a chilly Saturday morning, surrounded by youth soccer games on all sides.
Addo, who played for the Ghana national soccer team at the 1992 and 1996 summer Olympics, winning a bronze medal in Barcelona in 1992, stands in goal, deflecting shots sent at him by some of the top goalkeepers in the Northern Region.
"What was that Simon?" yells one of them as a ball finds the back of the net.
"That was a dirty shot," said Addo with a big smile on his face.
Usually, the scene plays out in reverse, with Addo sending shots their way during one of his many goalkeeping-training sessions. Enjoying the opportunity to fire on their trainer are Joel Helmick and Brian Murphy of W.T. Woodson, Katie Smith of Annandale and Charlie Buckley from Langley.
"This is the first time that I have been able to shoot on him so it is actually quite nice," said Buckley.
<b>ADDO GREW UP PLAYING</b> soccer, with his brother, Joseph and uncle, Harry Opoku, both finding success in the sport. By age 17, Addo was a reserve goalkeeper for the Ghana national team at the 1992 Olympics in Barcelona, and tended the net for the Ghanaian team as they beat Australia, 1-0, to win the bronze medal.
"The experience — that is one of the main things that I like about Simon," said Robinson boys soccer goalkeeper Adrian Dominguez. "The way he carries himself, it is pretty impressive, considering everything that he has done."
After traveling the world playing soccer, including another trip to the Olympics in 1996, Simon found himself in the United States, visiting his brother Joe, who played college soccer at George Mason University and later, in Major League Soccer with the Tampa Bay Mutiny.
Opoku was also in the area, training elite soccer players and he asked Addo to help him train some of his goalkeepers.
"It makes me happy," said Addo, who currently trains players from 11 years old to seniors in high school. "I am happy to see [the kids] growing up in soccer.
<b>STILL IN GOAL</b> behind Holmes Middle School, Addo and his students send verbal jabs back and fourth.
"You have to let them enjoy what they are doing," said Addo. "There is a lot of fun in goalkeeping, but it is business whenever you get in there. You let them enjoy what they are doing."
Many of Addo's students move on to play soccer at the next level. This year, seniors Katherine Yount (William and Mary), Helmick (Longwood), and Dominguez (Virginia Military Institute) will all move on to play in college.
"I think that Simon has done a huge part in creating Joel," said Matt Leiva. "He has been with Joel now for years and the technical development has just been phenomenal."
"I give a lot of credit to Simon. If not all of it, then most of it," said Helmick. "I feel like I learned pretty much everything from him."
Added Addo: "The high school varsity players that I am coaching, most of them have the capabilities of taking it far. They are young and the type of training that I give to them is professional. I make sure that I give them the best of the best."
<b>YOUNT, A FIRST-TEAM</b> all-state goalkeeper last year, has worked with Addo for seven years and has only one complaint.
"He still hasn't brought his bronze medal to a training session to let me see it and I'm a little bitter," she said. "He brought it to some of the other kids, but I ask him and he always forgets."
Dominguez has also never seen his trainer's impressive hardware.
"Now that you say that, I am probably going to ask him to see," he said. "We've talked about it, but for some reason, I have never asked to see it. That is on my to do list."