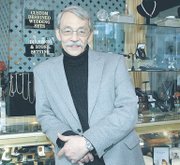 <i>Keeping Shop is a regular feature of the Gazette Packet. To qualify, retail shops should be locally owned or operated; new, expanding, celebrating a significant anniversary or doing something otherwise newsworthy. To nominate your business or another business, contact Mary Anne Weber, editor, Gazette Packet, maweber@connectionnewspapers.com.</i>
Business name: Gold Works/David Martin Design
Address: 1400 King St., Alexandria, VA 22314
Years at this address: 18 years
Years in business::18 years
Telephone:703-683-0333
E-mail: David@GoldWorksusa.com
web site: www.goldworksusa.com
<b>Owner:
</b>David M. Martin
<b>Short bio:
</b>I have lived most of my life in the Washington metropolitan area and grew up in Delaware. My experience in medicine, sculpting, and jewelry naturally led to jewelry design. As a master craftsman, I stay on the cutting edge in my field with ongoing education in all phases of jewelry making; and nearly 6 years now in CAD CAM – Computer Applied Design and Computer Assisted Manufacturing.
<b>Why did you choose this particular business?
</b> I enjoy seeing how happy a beautiful piece of jewelry can make someone. The following e-mail I recently received from a customer I designed jewelry for via the Internet conveys this feeling: "Hello David, ….Thank you for your patience putting up will all of my e-mails. I just wanted to give her something unique, exquisite, and very special. I think you, we succeeded. Please read her response below.
OH MY GOD!!!! I just got home from work and opened my package!! I just about hit the floor!!!!!!!!! It is stunning! I can't believe this! It is my necklace and earrings all put into a bracelet! You're amazing and so is David!!! Thank you, thank you!
<b>Why did you choose to work for yourself rather than as an employee for someone else?
</b>It is the only way I feel I can work at my fullest capacity all the time.
<b>What have you learned from being in business?
</b>Nothing is predictable, especially in retail. One must be flexible and resilient from year to year.
<b>Share an anecdote of a challenging or humorous experience or biggest surprise learned from working your business.
</b> I enjoyed having the mayor of Alexandria and the Alexandria City Manager come in the store, one day after the other, independently and was a great surprise as has been the stream of city officials and other neighbors and people from here and all over the world who have come to the store. It has been a pleasure to do business with everyone.
<b>What have been the advantages and/or disadvantages of operating a business in Alexandria?
</b> It has been an advantage in life and in business to be a part of the fabric of a city with as much charm, history, and wonderful people as in Alexandria.
<b>Manager:
</b>Michael Knuycky
<b>Short bio
</b>Michael has been in this area since 1959. His hometown is Topeka, Kansas. He grew up in a family involved in crafts, leatherwork, and carving.
<b>Key staff
</b> David Bruins - CPA. Accountant; Estifanos Tsegaye – Bookkeeper and Sr. Sales Director; Toni Johnson – Sales assistant; Tan Hoang – Master Jeweler
<b>Description of services and/or products:
</b>Custom jewelry design and sculpture. We also specialize in jewelry repair in yellow and white gold, platinum, and silver; and bronze. I also handle diamonds. pearls, stones, restringing, and appraisals.
<b>Professional affiliations/associations:
</b>I am a mmber of Jewelers of America (JA), Gemological Institute of American (GIA), Old Town Business and Professional Association, the Alexandria Chamber of Commerce, Del Ray Artisans, and The Torpedo Factory Art League.
More like this story