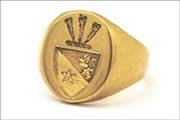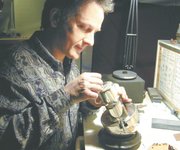 For the past two decades jeweler Eric Margry has created hand engraved pieces from his Torpedo Factory studio. He crafted a custom ring for Tilda Swinton's character in the Coen brothers comedy, "Burn After Reading," which came out Sept. 12. Margry spoke about his unique style, working with the Coens and life in Alexandria.
<b>Could you tell us about the kind of work you produce?</b>
The work I produce includes all types of wearable jewelry. The two forms I specialize in are engagement and wedding rings sets made specifically for a couple and family crest rings. I am trained in the traditional methods of creating a family crest ring, which were developed in the Middle Ages. I use the same techniques that were used then to make this ancestral heirloom.
<b> What inspired you to start working in this medium and style?</b>
I have been making jewelry since I was 14 years old. This inspired me to go to school to learn more. I studied in Holland, my homeland, where they have a school just for jewelry techniques and hand engraving was one course of study.
<b> What materials and techniques do you use?</b>
I work in gold, silver, platinum, palladium, titanium, brass, copper and rubber. I hand form jewelry from sheet and wire. I also carve wax for lost wax casting. I do flush set stones and other hand made settings for engagement rings. Hand Engraving is my special skill. This is a craft that not many people in America practice. I used a sharpened piece of steel to carve patterns directly into precious metal.
<b>Are there any other jewelers or artists working in precious metals that you particularly admire?</b>
I have an affinity for other jewelers working in the Netherlands such as Gijs Baker and Ruudt Peters.
<b>How did you get connected to the Coen brothers?</b>
The wardrobe designer was looking for a Family Crest Ring for Tilda Swinton to wear. They wanted one made by authentic techniques and found me by doing an Internet search.
<b>How did creating this piece for a film affect your usual creative process?</b>
This is the type of ring I do on a regular basis for other customers looking for a ring that represents their heritage.
<b> How did you collaborate creatively with the filmmakers?</b>
My contact was through the wardrobe designer. I made suggestions to her and she presented them to the filmmakers.
<b> Was there anything particularly challenging about this project?</b>
They wanted the ring to look like Ms. Swinton's character had been wearing it for a long time. After making the rings, I had to make them look worn in the same way.
<b>Anything surprising?</b>
That they would need two rings was surprising to me. They needed the duplicate in case something would happen to the first one.
<b>What was the best part of this experience for you?</b>
I made the rings over a year ago and since then Tilda Swinton has won an academy award (supporting actress in Michael Clayton).
<b> Have you seen any of the film? Are you a Coen brother's fan?
What kinds of movies do you like?</b>
I haven't seen the film yet. Yes, I like the Coen Brother's films very much. My favorite is "Fargo." My favorite Tilda Swinton film is "The Deep End." I see documentaries, foreign films, and independent cinema.
<b>What other kind of commissioned projects have you done in the past? Which project was your most memorable and why?</b>
Most of my work is commissioned projects. It's always exciting to make wedding bands since you know they will wear them everyday and hopefully for the rest of their lives. A big part of what I do is hand engraving presents. Since we live in our Nation's Capitol, some of those presents end up being for well know people. I've hand engraved a plate for President Reagan and a cigar cutter that was a gift for President Clinton. I've worked for other movies stars, as well. I remember Faye Dunaway, in particular, because she came to my studio herself instead of sending an assistant.
<b>How long have you been based in Alexandria? What do you like best about the area?</b>
Since 1985. I enjoy riding my bike to work along the Potomac River. There is so much art shown in the area that I am never lacking for inspiration.
<b>What projects are you working on now?</b>
I'm hand engraving signatures on a sterling silver tray for a wedding. At the same time I'm engraving a pattern on the outside of a set of engagement and wedding rings.
<b>How can one learn more about your work or commission a piece from you?</b>
Visit my studio at the Torpedo Factory Art Center studio #229 12-5 Tuesday, Thursday, Friday, and Saturday. Or find me the same way the Coen Brothers did by googling family crest ring to get to my Web site www.familycrestring.com. The Web site shows the history and the techniques of hand engraving. I am also on the Torpedo Factory Art Center Web site in the Jewelry Section as well as on the Commissions page.