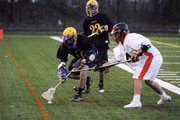 The Lake Braddock boys lacrosse team prides itself on having a big, physical defense. They expect to be able to overpower their opponents, and for good reason, as their three defense anchors, nucleus of the Bruins' back line, seniors Jud Gates, Joey Belcher and Kyle Merrell, spend their fall season doling out punishment as members of the Bruins football team.
"Although they use completely different skills, I think that athletes are athletes. The hardest thing on the field is to get great athletes," said Lake Braddock boys lacrosse head coach Steve Price, who is also an assistant head coach for the Lake Braddock football squad. "These are big, strong, fast guys. They handle the ball well as a bonus."
The Bruins have 11 players on their roster that played football last fall – nine of those players play defense or midfield.
Belcher, along with all-Patriot District defensive back Keon Robinson are both senior starters that didn't pick up a stick until last year.
Belcher, who worked himself into the starting lineup last year within two weeks of joining the team, was convinced to play lacrosse by his football teammates who were also members of the lacrosse team.
"They knew that he was a great natural athlete," said Price. "Now he has a year under his belt."
Robinson was brought in to use his speed to shadow star players on the opposing squad.
"He is so fast that we put him on the field to shut off opponents' midfielders. He is unbelievably coordinated," said Price.
The influx of football players has also improved the depth of Price's bench.
"We can run with some teams in the fourth quarter," said Price. "We used to run out of gas."
The Bruins' defense has helped the team jump out to a 6-3 record on the year, holding seven of its nine opponents below their season average in goals.
"We pride ourselves on being physical and smart," said Lake Braddock assistant head coach Dennis Sterwart. "We try and take away what our opponents do best."
Defense has been important for the Bruins this season, as seven of their nine games have been decided by fewer than two goals, including an 8-7 win over West Springfield on Tuesday night. The Bruins' three losses have been by a combined four goals.
Lake Braddock will get an extended break this week, playing their next game on April 24 against R.E. Lee.