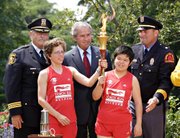 According to the official Web site for the upcoming Boston Marathon, 14 Springfield residents are set to run in the 112th race, which makes it the world's oldest marathon. The race, which takes place every Patriots' Day, will have tiered starting times, which start Monday, at 9:25 a.m.
The entrants include Anne-Marie Adams, Michael Cannon, Debroah Cawthorn, Karen Courington, Karen Dickerson, Conrad Dreby, William Ewald, Carl Farquhar, Marty Hagenston, Lon Krall, William Moran, Phu Nguyen and Jan Sharkey.
Comparatively, 147 Springfield-based runners ran in the 32nd annual Marine Corps Marathon in of 2007. Of the runners registered for the Boston Marathon, six ran on the MCM last year. Eight runners finished the 26.2-mile race last season, including William Ewald, 48, and William B. Moran, 58.
While the MCM is free to all comers — hence the nickname "the People's Marathon" — the Boston Marathon requires participants to meet qualifying standards. A runner must race in a marathon course certified by a national governing body usually 18 months prior to the start, and age groups have specific time cutoffs.
Many of the participating runners are members of the Reston Runners Club, the Vienna-based Virginia Happy Trails Running Club, the Arlington Road Runners Club or even the DC Road Runners Club, which has approximately 1,500 members.