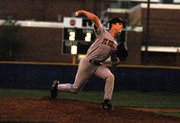 T.C. Williams rebounded from district loss to down Annandale 10-6 on the road Tuesday.
The Titans built an early nine-run lead in the first two innings, punctuated by senior left fielder Louis Barnett's two-run double.
Senior pitcher Tim Mannel earned the team's sixth win, going six innings and giving up two runs. The Atoms scored four runs in the top of the seventh.
With the win, the Titans evened its record to 6-6, and 3-3 in the Patriot District.
Against South County on Friday, the Titans weren't quite as solid. The Stallions, paced by junior pitcher Brennan Miller struck out 11 batters en route to a 10-3 victory.
Sam Alexander, who started the game on the mound, sent a two-run shot over the fence in the fourth inning.
South County, however, tallied six runs in the sixth inning to blow the game wide open. The Stallions upended then-undefeated West Springfield 3-1 at home on Tuesday.
Earlier in the week, T.C. Williams squeaked out a 4-3 win over Patriot District rival Hayfield on April 9 at Simpson Field.
All of the scoring occurred in the first two innings as the Hawks put three runs in the first two innings. The Titans responded with four runs in the bottom of the second, which was keyed by a two-run double by Tackett.
Tackett also earned the victory on the mound by easing out of the fifth inning when Hayfield had runners on the corners. The senior picked off the player at first base, and in the same play caught the other Hayfield runner trying to steal home.
In the final inning, the Hawks again threatened, getting runners on first and second with no outs. But a double-play by freshman catcher Trav Clark and a subsequent strikeout ended any upset hopes.