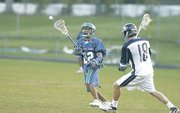 Liberty District boys' lacrosse opponents South Lakes and Stone Bridge played a hard fought game in Ashburn on April 18.
The visiting Seahawks of South Lakes came away with a 13-7 triumph.
The contest between the two fairly young teams was close early in the third quarter following a goal by Stone Bridge's Derek Maltz that got the Bulldogs within 6-5 with six minutes, 41 seconds remaining in the stanza.
But thereafter, South Lakes pulled away with four consecutive goals, two of them coming from junior midfielder Tyler Harned, to take a commanding 10-5 lead going into the fourth quarter.
Stone Bridge, despite working hard in hopes of getting back into the game, was not able to do so.
South Lakes, a team made up of one senior and a boatload of juniors, improved its record to 4-5 overall and 3-3 within district play. The Seahawks have progressively gotten better and better this season and appear to be improved from last year's Seahawks' squad that finished 4-8.
Stone Bridge, with the loss, fell to 2-7 on the season. The Bulldogs have just four seniors on their roster. The team is made up mostly of juniors (8) and sophomores (13). One of the team's wins this season came over Washington-Lee of Arlington.
Stone Bridge coach Scott Mitchell said his team continues to play hard throughout games regardless of the score.
"I told my team this, that regardless of the score in any games we've played, they fight hard," said Mitchell. "They want to play and fight hard. They don't want to quit. That's the kind of demeanor you need."
The Seahawks' Harned, who scored an impressive seven goals, led South Lakes in the win over Stone Bridge. Fellow junior attackman Matt Shinrock added four scores, while junior midfielders Alex Golembiewski and Brian Stout both had one. Earning the win in the net for the Seahawks was sophomore goalie Ricky Stout.
"South Lakes has some good players," said Mitchell. "They're quick, fast and athletic."
Stone Bridge, which early on led South Lakes 2-0 less then three minutes into the game, was led by junior midfielder Tyler Lowdermilk, who scored three goals. Maltz, a sophomore attack player, scored a pair on the night, while senior attack Nick Osborne and senior midfielder Sean Smingler added one apiece.
SOUTH LAKES looks to be a team on the rise. With so many underclassmen in its line-up, the future indeed looks bright for the Seahawks.
"We've been coming to practice and giving 100 percent," said senior and team leader Trevor Cox, a defenseman who helped hold down Stone Bridge's offensive attack to just three second half goals after the Bulldogs trailed 5-4 at halftime. "We have to make a name for ourselves. We've always been underdogs every year. It's our time to shine."
South Lakes coach Matt Blamey told his team earlier in the spring that it can win this season. While the Seahawks could be even stronger next year because of the numerous players who will be returning to the team, there is no reason not to be successful now as well, according to Blamey.
"We said at the beginning of the season, we want to finish in the top four [in the district] and make the [16-team Northern] Region playoffs, whether we win the district [title] or not," said Blamey, the fourth year South Lakes coach.
South Lakes has never qualified for regionals under coach Blamey. This year's squad is determined to take that next step and to get in to the postseason field.
"This is my last year," said Cox. "It's `Go big, or go home' to me. People always talk about how next year we're going to be a good team. Coach Blamey said, `We have a senior [who won't be back next year],' and we want to win now."
Cox said South Lakes is having more success this spring than in past seasons because of its ability to do some of the little things better on the field.
"We're catching and throwing better, and we're doing better on ground balls," said Cox, who also said the Seahawks' defense is playing better as a unit than in the past.
Cox credited the South Lakes offense with coming up big in the win over Stone Bridge. "Our offense really stepped up in the second half," he said.
Coach Blamey said that last year's sophomores are playing much better this season as juniors, an improvement that has been critical for the Seahawks. There are 12 juniors on this year's South Lakes squad.
"We've had dedication from the kids," said Blamey. "We have an enormous junior class and just one senior. They've played together in offseason tournaments."
Blamey also said the high school program is seeing the benefits of having a successful youth lacrosse program in the area in Herndon-Reston Youth Lacrosse.
"We're just starting to see the dividends of that," said the coach.
South Lakes' leading scorers this season are Harned and Shinrock.
"Tyler brings athleticism and intelligence and is one of the smartest players I've ever coached," said Blamey. "Matt is a fantastic dodger and finisher. He's a lefty, but can go both ways."
South Lakes' district wins thus far have come over McLean, Marshall and Stone Bridge. The district losses have come to Woodson, Langley and Jefferson.
STONE BRIDGE is working on handling adversity in games better, according to coach Mitchell.
"When we have one or two bad breaks, we get a little bit down," said Mitchell. "It's tough to come back from a good punch. That's something we're constantly working on."
This week, Stone Bridge was scheduled to play district home games on Wednesday (make-up versus Madison) and Thursday (McLean).