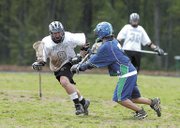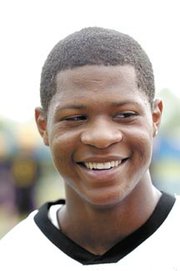 There was a celebratory feel as South Lakes hosted the three-team `Live Last Love' Fundation Invitational Boys' Lacrosse Tournament last Saturday.
The high school event was held in memory of Anita Cox, who passed away last fall following a battle with cancer.
Cox's son, Trevor, is South Lakes lacrosse's lone senior this spring. He and his teammates, along with guest schools Dominion High of Sterling and Lake Braddock High of Burke, played in honor of Mrs. Cox, a woman known for her vitality, kindness and love for life.
Undoubtedly, Trevor's mom would have been proud with the competitive, clean and all-out drive and determination of Saturday's lacrosse action.
Some of the proceeds of the day of lacrosse went to the `LiveLaughLove' Foundation.
The South Lakes team, under coach Matt Blamey, has dedicated the season to Trevor's mom. And the Seahawk players have sported her initials, `AC,' on their helmets.
<b>THE DAY'S</b> first game was a terrific contest between host South Lakes and Dominion, a member of Loudoun County's Dulles District.
The Seahawks won a hotly contested 14-12 game in which the guest Titans showed their fortitude with a strong, fourth quarter comeback try that cut what had been a six point deficit at the beginning of the final quarter to two goals by game's end.
Dominion second year coach Pete Lenotti was pleased with his team's resolve to work itself back into the game. He was also impressed with South Lakes.
"South Lakes is good overall," he said. "They take the game serious. They are good on face-offs and aggressive."
South Lakes, in the win, had three goals apiece from junior midfielder Tyler Harned and junior attack Alex Little.
Harned is one of four South Lakes team captains, along with fellow teammates Alex Golembiewski, a junior midfielder, junior defender Ed Reed and Cox, who led the scrappy Seahawks' defense in the win.
South Lakes received two-goal games in the win over Dominion (3-6 record) from Golembiewski, freshman attack Alex Clough and junior attack Matt Shinrock.
Also scoring goals for the Seahawks were junior midfielder Toye Falaiye and Reed.
In the assists department for South Lakes, junior midfielder Will Johnson had three to lead the Seahawks. Clough and Shinrock both had two assists and Golembiewski had one.
In the net, South Lakes sophomore goalie Ricky Stout earned the win.
Junior attack Mark Glascock and sophomore midfielder Thomas Dewar, who both had three goals, led Dominion. Adding two goals apiece for the Titans were junior attack Michael Fawkes and freshman attack Stephen Tarrant. One-goal games came from junior midfielders Andrew Russell and Nicholas Phillips. Dominion, as it has done throughout the season, used goalies Britton Miller (first half), a senior, and freshman Andrew Fawkes (second half).
<b>DOMINION</b> came out rolling as it scored the game's first three goals, the latter coming off a 12-yard scorcher from Dewar to give the Titans a 3-0 lead just over two minutes into the contest.
A bit stunned South Lakes squad called a timeout, then came around once play began again by scoring three straight goals of its own, the latter on a catch-and-throw, close range score by Little (off an assist pass from Shinrock) to tie the contest at 3-3.
Dominion's Michael Fawkes, while in the air, sent an eight-yard sizzler in from the left corner to give the Titans a 4-3 lead in the final minutes of the opening quarter.
But South Lakes then garnered control of the game by scoring the first five goals of the second quarter, with two apiece coming from Harned and Little, to build an 8-4 lead. Later in the quarter, with the Seahawks ahead 9-6, South Lakes got scores from Harned and Reed to finish the first half scoring and put South Lakes up 11-6.
Both teams scored two goals apiece in the third quarter and the Seahawks held a 13-8 advantage going into the fourth quarter.
Within the opening seconds of the final quarter, South Lakes' Little sent a short-range shot high into the net to make it 14-8 Seahawks.
But South Lakes never scored again. Meanwhile, Dominion received goals from Dewar and Tarrant to creep within 14-10 with four minutes, 31 seconds left to play.
A couple minutes later, the Titans drew within 14-11 when Tarrant landed a 12-yard bounce shot into the net from the left side.
Dominion scored the game's final goal when Glascock, after initially faking a shot from the left side, worked his way a few feet closer before finding the net from eight yards out with 29 seconds left.
But it was not quite enough. Moments later, South Lakes' Seth Hauter, a freshman midfielder, gathered a loose ball and threw it way down the field as the final horn went off to end the high-scoring, exciting game.
"They're a solid team," said Dominion senior defender Chad Ward, of South Lakes afterwards. "We just lost control of the game. We didn't have enough possession."
<b>THE TITANS</b>, who struggled for several seasons before finishing around .500 last year in coach Lenotti's first season, have come a long way over the past two seasons.
"Our coach has helped us a lot to put our offense together, and we can play [opponents tough] now," said Ward.
Dominion has played a tough non-district schedule this season, including games against private school opponents such as Paul VI of Fairfax and St. John's of Washington, D.C., along with public school opponent Western Albemarle (Charottesville area). All three of the team's wins have come in Dulles District play– victories over Briar Woods, Loudoun County and Freedom of South Riding. Dominion played district opponent Heritage tough in a 15-11 loss.
Ward has been the team's defensive leader and Michael Fawkes has spearheaded the team's offense.
"We're a much better team than last year," said Lenotti. "We have some sense of what we're doing [on the field]."
The coach said his team is still working to be consistent in the fundamentals of the game.
"We've got to pass better and pick up ground balls– the basics," he said. "We're still not doing it."
But the coach believes his team can be a contender in the upcoming postseason district tournament a few weeks from now. For more information on Anita Cox and the `LiveLaughLove' fundation, go to: www.livelaughlovefundation.org.