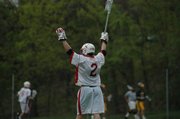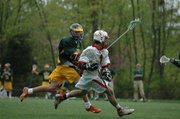 Heading into a Tuesday tilt with second-ranked Collegiate, the St. Stephen's & St. Agnes boys lacrosse team did little to resemble last season's Virginia Independent School Athletic Association state championship team.
Having lost 15 starters, including elite recruits Mark and Michael White, the Saints had won just one game thus far after a program-high 16 wins in 2007.
But SSSAS slipped back into last season's form for at least one game, fighting back from an early two-goal deficit to edge the Cougars, 11-6, in front of a parent-heavy contingent lining Kelleher Field.
"It was do or die," said Briggs Davis, a Middlebury signee. "If we didn't win this game, we didn't really see much of a chance of getting in the playoffs and that's where we want to be so we can make a run for the championship again."
Freshman attackman David Solomon scored four goals and had two assists, while the Saints, having lost three straight, stifled Collegiate's normally smooth transition game.
"We didn't force our plays, which we would have probably done in a different game," Solomon said. "The last five games, we've been playing great together."
While Solomon and third-year head coach Andrew Taibl both cited a recent team-wide attitude adjustment, the results had yet to come to fruition — until Tuesday.
Senior co-captain Jason Neithamer, a three-sport athlete who is set to play at Bucknell next season, said the epiphany actually happened in one of the most lopsided losses of the year. Down just three goals to first-place Georgetown Prep, the No. 16 ranked team according to www.laxpower.net, the Saints grabbed a sense of confidence despite the 11-1 final.
Despite a four-goal victory over St. Christopher's in the following game, the Saints dropped consecutive one-goal games at Bullis and at home to Woodberry Forest.
"Since then, we've lost some games that we played better than the other team," said Neithamer, who was moved to an offensive midfielder position midseason despite playing defense for past two years.
<b>THE MULTIPLE LOSSES</b>, Neithamer says has the SSSAS as a current laughingstock. Even after the Collegiate win, the Saints are just 2-10 and tied with fellow Alexandria private school Episcopal for last-place in the league.
A season removed from a two-overtime IAC championship defeat that would have given SSSAS the league title, the Saints have been outscored 33-8 in league games.
"Definitely in the IAC, we're probably laughed at," Neithamer said. "That fuels us."
The toughest adjustment has been installing new faces like Solomon, a mere freshman, who has been forced into large chunks of playing time. SSSAS starts two sophomore attackmen, another junior and have two sophomores that share time in goal.
"When you graduate a lot of guys, you have to deal with a new group of guys coming together," Taibl said. "It's not that we don't have talent and we're making excuses about being young, it's just that we have a different group of guys."
The sputtering start certainly didn't help. With youth intertwining with a slew of early-season injuries, it made for a volatile 0-7 start that the team would rather forget.
"I think when you get off to the start we have and we're young, it feels like the end of the world," Taibl said. "It's not and I think we've given away a game or two because we were feeling sorry for ourselves."
But the coach also cautions that while the early-season lumps were anything near enjoyable, if Tuesday is any indication, the "we-have-nothing-to-lose" motivational tactic just might work.
"We've said, 'hey, don't let your record define what you can do," Taibl said. "Just enjoy it and keep playing and be happy that you've got games in front of you."