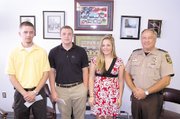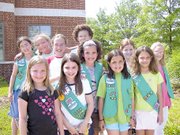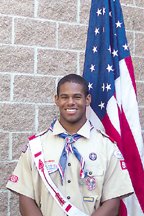 Send announcements, which are open to the public at no or minimal cost, to The Loudoun Connection, 7913 Westpark Drive, McLean, VA 22102 or e-mail loudoun@connectionnewspapers.com. Deadline is Friday, two weeks before the event. Photos/artwork encouraged. For more information, call 703-917-6454; for additional listings, visit www.connectionnewspapers.com.
Rep. Frank Wolf (R-10) announces the 10th District's appointments to the nation's service academies.
United States Naval Academy, Nicholas Galvan of Potomac Falls, Potomac Falls High School.
United States Merchant Marine Academy, Renee Elizabeth Hogan of Sterling, Potomac Falls High School; Adam Roland Wise of Sterling, Potomac Falls High School.
The appointees were nominated by Wolf's 10th District service academy advisory board, which interviews candidates and recommends nominees.
Eileen Nguyen and Lynn Ruths, with the Loudoun County Department of Management and Financial Services, have completed the Virginia Government Finance Officers' Association (VGFOA) Certificate Program. The program requires individuals to complete and pass exams in Virginia law and other related topics pertinent to state and local governments.
On Wednesday, Aug. 6, the Loudoun County Adult Drug Treatment Court will hold the program's fifth graduation ceremony. Virginia Del. David E. Poisson (D-32), will address the participants and guests.
There are 19 participants in the program, one of who will graduate that day. The graduate has completed all four phases of the program and has maintained a considerable period of abstinence.
The drug court model is a specially designed docket within the existing court system that focuses on nonviolent substance abusing offenders. The court utilizes immediate sanctions and incentives to promote participant progression through the four-phase program. Participants enter the program voluntarily and are made no promises as to their probation supervision status post-graduation.
The Loudoun County Drug Court Program, implemented in June of 2004, is one of about 30 such programs in Virginia.
The Loudoun County Victim Witness Program honored Loudoun Sheriff's Office Investigators Tim Ortwein and Dave Canham at the 10th Annual Victim Services Awards. The awards ceremony is held each year during National Crime Victims' Rights Week and was established to honor and recognize those who have exhibited outstanding services on behalf of crime victims.
The following area Virginia Tech students were among those honored at the university's spring commencement ceremony held May 9: Shari Baloch, Samuel Beneck, Matthew Brubaker, Elizabeth Dye, Paul Geiger, Warren Glismann. Lisa Gunderman, Nasser Hamidi, Safia Jamil, Margaret Pruden, Vladimir Smirnov, Zachary Williams, Zachary Williams, Christian Zoeller, Andrew Augustin, Monica Bass, Albert Bjork, Caroline Black, Douglas Brenner, Michael Diaz, Margaret Feldman, Amanda Halsey, Ashley Hartle, Kristin Hendershot, Kimberly Hollmann, Lisa Kaiser, Taylor Lugar, Erik Reeves, Morgan Rezac, Katherine Runco, Nicole Shaffer, Christopher Jones and Emily Williams.
Three Loudoun County students were presented with checks for $500 from Loudoun Sheriff Steve Simpson as part of the Virginia Sheriffs' Institute (VSI) scholarship program. Daniel Dales of Sterling, Scott Reynolds of Ashburn and Notre Dame Academy student Kara Rutherford are the 2008 scholarship recipients. Dales attends James Madison University, Reynolds attends Radford University and Rutherford will attend George Mason University this fall.
George C. Black Jr., a member of Boy Scout Troop 966 in Sterling, received his Eagle Award during a Court of Honor Ceremony attended by fellow Scouts, family and friends May 24, at the Fairfax Church of Christ. The Eagle Award is Boy Scout's highest rank and is achieved by less than 4 percent of all Scouts. George achieved the rank of Eagle after rising through the Scout ranks, by earning a total of 30 merit badges and by holding several leadership positions in Troop 966 including patrol leader and chaplain aide. George is also a member of the Order and Brotherhood of the Arrow. With help from friends and fellow Scouts, George reconstructed the courtyard at Farmwell Station Middle School by excavating and installing a pond with waterfall and bridge for his Eagle Scout project. George graduated from Broad Run High School and will be attending Virginia State University this fall. Troop 966 is sponsored by the Sterling Ruritan Club.
More like this story