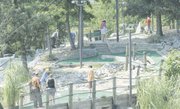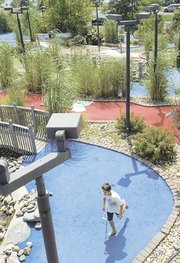 Maybe it's the menagerie of dinosaurs and elephants, fire pits and waterfalls, jokers and gargoyles, pirates and explorers, loopty-loos and right angles. Perhaps it's the rainbow hued balls littering the links, or merely the ridiculous addicting challenge of staying on par.
What draws us, as humans, to miniature golf, one of the summer's staples?
More than its more professional uncle, the sport — or is it? — transcends age, gender and social background. The winding courses, often impossible to follow even with a map, are a destination for families, vacationers and couples. Heck, it's even spurned a professional industry.
Locally at TopGolf USA, located across the road from Edison High School and a favorite for professionals playing hooky, the Kingstowne golf complex has 36 holes spread over two 18-hole courses. The two par-60 courses are of varying degree of difficulty and possibly more importantly, both are themed, one catering to the mountains and the other a desert theme.
According to Terry Fife, the general manager of TopGolf USA, the golf complex accounts for approximately 6-8 percent of the total revenue. During the summer, the peak season, Kingstowne brings in 1,200-1,400 mini-golfers weekly.
"It's certainly a small piece of the pie, but it's also a very important piece as well," Fife said. "Our numbers have been consistent if not better this year over previous years both at the facility itself and in mini-golf. We're not seeing a decline."
However, economics are different throughout the miniature golf landscape, as exemplified by Herndon-based Woody's Golf Range, where owner Woody Fitzhugh maintains a driving range, putting green, batting cages and miniature golf course. His "Perils of the Lost Jungle" course includes stoned-faced statues, snakes, alligators, treasure hunters and a T-Rex. Woody's is one of the most expensive courses (a regular round costs $9.25), but is also interactive and has more attractions.
But Fitzhugh, who opens his course in mid-May and closes once school restarts, likens the experience to a movie — the better the theater, the higher consumers are willing to spend. It translated to a record season in 2007, but with approximately 700 weekly visitors this summer, his numbers are down.
"I don't know whether last year was exceptionally good because of the weather or whether the economy has slowed down a little bit," said Fitzhugh.
MINIATURE GOLF'S origins can be traced to 1916, when James Barber hired architect Edward Wiswell to design a course behind his summer home in Pinehurst, N.C. In 1926, New York City's first outdoor miniature golf course was built on a skyscraper roof. Miniature golf was no longer miniature.
A year later, businessman Garnet Carter built a miniature golf course on Lookout Mountain in Tennessee to attract patrons to his hotel and full-length course. After a while, the miniature course had become so popular, more people wanted to play on it than on the regulation greens. Carter eventually discovered an artificial surface.
In short, miniature golf was no longer miniature.
By the fall of 1930, more than 25 million people were miniature golf fans and 50,000 mini-golf courses littered the landscape. The fad died off briefly, but experienced a rebirth in the baby-boom 1950s.
In some respects, however, miniature golf is as popular as ever. The sport boasts several trade associations: the US ProMiniGolf Association, the Miniature Golf Association, the Professional Miniature Golf Association and the World Minigolf Sport Federation among them. There's even a pro circuit, with Master's and U.S. Open events that attract players from around the world.
Miniature golf may not show up as an ESPN primetime special — the national championship was aired for four years — but the game is still played by millions every year with approximately 5,000 miniature golf courses throughout the country.
"First and foremost, it's something the whole family can enjoy. Realistically, there aren't too many activities where that's true," Fife said. "It's something the parents can look forward to because they can bring their children as well."