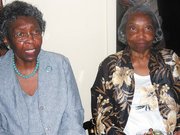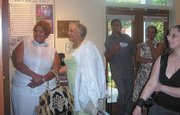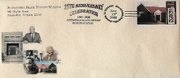 This year marks the silver anniversary of the establishment of the Alexandria Black History Museum, and staff and patrons celebrated the occasion with an open house and reception on Wednesday, June 25, from 6:30 p.m. to 8 p.m. The museum, located at 902 Wythe St. in the historically black Parker-Gray community, held its first public reception exactly 25 years earlier, on June 25, 1983.
The Alexandria Black History Museum is housed in a building originally constructed in 1940 as a library to serve black citizens, following a sit-in at the segregated Alexandria Library a year earlier which resulted in the arrests of five African-American men. In the early 1980s, two groups of citizens – the Alexandria Society for the Preservation of Black Heritage and the Parker-Gray Alumni Association – saw the need to document Alexandria's black history by collecting oral histories, artifacts and photographs. In 1983, the City of Alexandria opened the building to these groups to establish the Alexandria Black History Resource Center, which was staffed by volunteers.
In 1987, the City assumed operation of the center through the Office of Historic Alexandria to develop exhibitions, educational programs and collections. In 2004, the center's name was changed to the Alexandria Black History Museum to more accurately reflect its function and mission of preserving the history of Alexandria's African-American people, businesses and neighborhoods. In 2006, the museum opened its first permanent exhibit, Securing the Blessings of Liberty, which highlights the African-American experience in early Alexandria.
Each year the museum offers dozens of educational and cultural opportunities, including exhibitions, speakers and interactive programs about African-American history, art and traditions.
The museum is open from Tuesday through Saturday, 10 a.m. to 4 p.m. For more information, visit <a href=http://www.alexblackhistory.org.> www.alexblackhistory.org.</a>