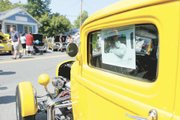 Hot rods and cool cars will be rolling into the Town of Clifton on Monday, Sept. 1., from 10 a.m.-3 p.m., for the ninth annual Labor Day Car Show.
About 400 cars will be on display on Main Street — everything from antiques, street rods, customs, classics to motorcycles. Some Smart Cars and hybrids will be on display, but the main attraction will be the antiques. Last year's event drew about 2,500 people.
The Clifton Lions Club will be selling hotdogs and hamburgers. The Clifton Presbyterian Church will offer meatball subs and the Pink Pantry will serve coffees and pastries. Mayor Tom Peterson will be selling ice cream in his shop as well.
In addition, a deejay will be playing oldies and visitors may win door prizes and dash plaques will be presented to the first 250 show vehicles.
Fifty trophies will be awarded this year, with about 40 of them being "Participant Pick" awards, the remaining being specialty trophies like Ladies Choice, Best Motorcycle, Best Antique, said organizer Jim Chesley. Specialty trophies will be in the shape of 10-inch painted plates.
This year's show benefits Life with Cancer, which provides classes through the Inova Healthcare System, support, information and education to people facing cancer. Life With Cancer offers program and services free of charge to people with cancer and their relatives regardless of where the treatment is received. Life With Cancer will have its own booth at the show.
"The more I looked at it the better I liked it," said Chesley. "When my dad died in 1994. It would have been nice to have a support group back then," said Chesley.
In addition, a 50-50 raffle will give away a DeWalt leather Cycle jacket personally autographed by Matt Kenseth for $5/ticket or 5/$20. Donations are 100 percent tax deductible.
Registration is $15 at the gate. For show and vendor information, contact Jim Chesley, 703-830-2129 or by e-mail jcchesley@aol.com. To learn more about the event visit www.customcrusiersnova.com. For more about Life With Cancer, call 703-776-2841 or visit www.lifewithcancer.org.