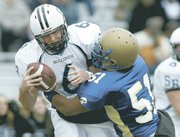 Reflecting over the previous two hours, which couldn't have gone much worse for his team, Stone Bridge senior Michael Prince chewed on one particular play. "That," he said, "put a dagger in us."
The dagger, it turned out, came 10 seconds into the first quarter. That's how long it took Phoebus to take the lead and the Bulldogs never came back during a 38-8 loss in a Virginia AAA Division 5 semifinal matchup Saturday afternoon in Newport News.
On the day's first snap, Phoebus defensive end Daquan Romero broke through for a sack. And when Stone Bridge quarterback Patrick Thompson lost the ball, Phoebus end Demetrius Ward picked it up and returned it 26 yards for a touchdown.
It was the first of six quarterback sacks for the Phantoms (14-0), who will play Dinwiddie next week for the state championship. It was the first of six turnovers for the Bulldogs (13-1), who ended up with the worst loss in the program's nine-year history.
"I thought he was trying to throw it," Stone Bridge coach Mickey Thompson said. "Whether it was a fumble or he was trying to throw it, I don't know. But that was a big play."
It put Stone Bridge in unfamiliar territory.
"Those guys are so used to rolling over everybody," Phoebus coach Bill Dee said. "I think just getting them mentally behind was real important. And we seemed to feed off that the rest of the game. We kept getting turnovers and I think we did to them what they did to us [last year]: We wore them down."
Averaging 252 rushing yards through their first 13 games, the Bulldogs had only 17 yards on 27 attempts Saturday. Patrick Thompson threw for 111 yards, but he was intercepted five times.
Stone Bridge trailed 24-0 at halftime before finally getting on the board when Patrick Thompson threw a 6-yard touchdown pass to Nick Sheehan. After the two-point conversion — Patrick Thompson to twin brother, Zach — it was a two-possession game.
<b>BUT SHORTLY AFTER</b>, Patrick Thompson was intercepted again and Phoebus quarterback Tajh Boyd threw 22 yards to Romero to make it 31-8.
"The turnovers killed us," Prince said. "When we got down, we had to rush our offense and we weren't able to do what we normally do."
Specifically, that would be the single wing rushing attack, which overwhelmed Phoebus in last year's game.
"The early turnovers hurt us because we couldn't stay in the single wing [offense] and try to go right at them," coach Thompson said. "To negate speed, you have to go right at them. But the game got away from us so quickly, we never had that opportunity.
"When you look at it, we were truly outplayed. There aren't a lot of things you can take from it except that we were definitely outplayed. We didn't play well and, wow, they played pretty doggone well."
Despite coming in undefeated with an average victory margin of 47 points a game, Phoebus played up the underdog role.
"Everybody was saying we wouldn't come out on top because Stone Bridge beat us last year and they were so good," tailback Shawne Alston, who rushed for 167 yards and two touchdowns, said. "But we wanted this game the whole year. We've been preparing for this."