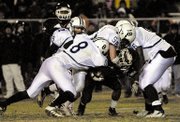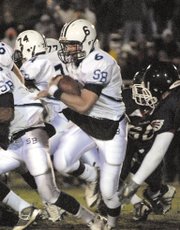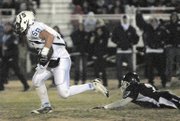 For one quarter, the Stone Bridge offense looked almost mortal. Averaging 50.4 points per game through their first 12 games of the season, the Bulldogs should've opened Friday night's Northern Region Division 5 final at Edison by scoring nearly two touchdowns in the first 12 minutes.
Not quite. Through the first quarter, the two teams had battled to a scoreless tie.
But on the first play of the second period, senior Patrick Thompson hit classmate John Bladel for a 68-yard touchdown. The Bulldogs would score two more times during the quarter en route to a 35-6 win.
Asked what was different about the second quarter, Stone Bridge coach Mickey Thompson's succinct answer said it all.
"We got the wind," Thompson said, referencing the swirling winds at Edison High School on Friday that wreaked havoc on both offenses.
Stone Bridge won its third region title in the past four years and will advance to Saturday's Virginia AAA state semifinal round for a much-anticipated showdown with Phoebus of Hampton Roads. Last season, the Bulldogs (13-0) handed the Eastern Region-champion Phantoms a 38-24 state semifinal loss in Ashburn, snapping Phoebus' 20-game winning streak at the time.
With its offense back on track in the second quarter, Stone Bridge's defense began to squash what little hope it had afforded Edison. In the second quarter alone, the Bulldogs allowed the Eagles eight net yards. In the third, Edison ran eight plays for a total of three yards.
"Except for that first quarter, they didn't get anything established at all," Thompson said, referencing the fact that his defense allowed Edison 90 yards during the opening stanza. "Other than that, I was never even concerned about them moving the ball or scoring."
"There was a lot of stuff posted on [Internet] message boards and there was a lot of trash talk about our defensive line being overrated," defensive end Brian Slay, a North Carolina State recruit who recorded two sacks and a fumble recovery, said. "That just gave us motivation and we wanted to stop them on defense."
<b>SLAY AND HIS</b> linemates weren't the only ones feeling a bit slighted. Despite the fact that his team has now beaten its opponents by an average of 41.5 points per contest, Thompson joked with a group of reporters after the Edison win about his team not getting "the due we deserve."
"I think this is one of the best teams that this area has ever produced. Of course I'm a little bit biased," Thompson said. "It was really important that we won this game and won it convincingly because I don't think people realize how good of a team [this is]."
Stone Bridge will face a tough test Saturday in Phoebus, a team that has outscored its opponents this season, 645-32. The Phantoms are 13-0 and led by Tennessee-bound quarterback Tahj Boyd.
In last year's state semifinal, the Bulldogs didn't allow a first down after halftime, forced four second-half turnovers and permitted the Phantoms only 45 yards of offense during the final 24 minutes. The thrilling, come-from-behind victory vaulted the Stone Bridge-Phoebus matchup into a class of its own and anticipation for this year's contest has been building ever since.
"It was the best game of my life," senior John Bladel said of last year's meeting. "It's been hyped all year and it's finally here. I can't wait."
On Friday, filling in for starter Daniel Allen (six carries, 19 yards), who exited the region final with less than 10 minutes remaining in the second quarter and didn't return, sophomore Marcus Harris scored a pair of touchdowns and totaled 64 yards on 11 carries.
Bladel took over for starting quarterback Patrick Thompson with less than three minutes left on Friday, running for 32 yards and a touchdown after Thompson hobbled off the field and, like Allen, did not return.
"It's a really cold environment, so it was kind of hard to pass," center Bryce Williams, who handled a variety of odd-angled snaps, even at one point snapping the ball three yards to his left on Harris' first scoring run, said. "But we knew if we moved them up front then we would [win] this game because our defense is lights out."