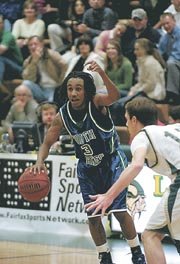 It's hard to find fault with South Lakes' 17-6 record of a year ago under then first-year head coach Darryl Branch. But the season's ending came way quicker than the Seahawks expected when they were upset by McLean in a first-round game of the Liberty District tournament. The bitter setback prevented South Lakes from qualifying for the Northern Region playoffs, a scenario the Seahawks have rarely faced over many successful winter basketball seasons.
Making the loss to McLean even worse was the fact that South Lakes' team was made up of eight seniors, including standout players Curtis Keys, AJ Price and Thomas Mayo, who would never have another chance to compete in the team's Kelly green and royal blue colors again. An experienced South Lakes team that could have made some noise at regionals saw its season end all too soon last winter.
"It was very disappointing," said Branch, at the time. "Being my first year as head coach, I think we could have done more."
But South Lakes, a younger squad this season, is now eager to begin another season's journey with hopes of a better ending. The Seahawks will open the new schedule with a non-Northern Region game at Heritage High (Leesburg) this Friday night. Heritage is a member of the Dulles District.
Senior point guard Travis Williams is South Lakes' lone returning starter. Williams was more in the background last year as then seniors Keys and Price received most of the attention from opponents and onlookers, but he put together a solid season as a ball handler, defender and a capable scorer. Once, Williams tallied 20 points in a game and twice he scored 18 points.
Coach Branch loves Williams' all-around game and desire to compete.
"He's got energy and he's a game changer," said Branch, of the 5-foot-9 point guard. "Last year he would come into a game and the speed and tempo would be much faster. Most of the time he makes [opponents] play at a pace he's comfortable with. He's a very tough kid and shoots the ball well. He's very strong on defense and loves to take on bigger kids."
<b>THREE OTHER</b> seniors will join Williams in the starting lineup this season in guards Steve Kerr and Brandon Price and forward Jamal Hulum.
Kerr is a "deadeye shooter with tremendous range," Branch said. "He's got more to his game now. He got a lot more aggressive this [past] summer."
Kerr improved his overall play over the summer and was a steady contributor for a South Lakes team that captured the Flint Hill League title while finishing second in the Madison High league in Vienna.
"He played very well this summer and his confidence grew," Branch said.
Price, who is 6-foot-2, came off the bench as a guard/small forward last winter for the Seahawks.
"He's athletic and likes to go to the basket," Branch said. "He's probably our best defender."
And Hulum, who is 6-foot-5, is a tough competitor and a solid defensive player who is showing improvement at the offensive end.
Rounding out the Seahawks' starting lineup will be junior 6-foot-4, 255-pound front court player Jamal Cooper, who is being coached to better utilize his size and skills inside the paint.
"He shoots the ball well from long range," said Branch, of Cooper. "We're trying to get him more aggressive inside. He's a matchup problem [for opponents]. We're looking to improve his front court defense."
Sophomores who could provide a good spark for South Lakes off the bench include point guard Alex Shipp, who was the Seahawks' junior varsity team point guard last year, and 6-foot-4 post player Brendan Galbraith, a sound player who attended The Heights School in Washington, D.C., last year.
<b>BRANCH</b> anticipates his team will have a good season in the Liberty District, where W.T. Woodson is the team to beat and Langley is defending champion. The coach said his squad, with a good mix of seniors and underclassmen, has a good chemistry.
"I like our chances and think we're comfortable with one another," he said. "Our strengths are speed and shooting and we really get along. It's a close-knit group."
Over the Christmas holidays, South Lakes will compete at the Westfield Bulldog Bash (Dec. 27, 29 and 30). On Jan. 3, the Seahawks will travel to Virginia Wesleyan in the tidewater area to take on First Colonial in a game.