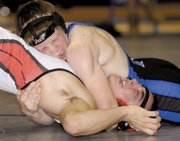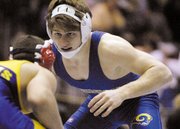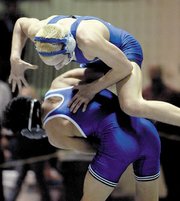 Depending on who's asking, early-season wrestling tournaments such as last weekend's Northern Region Wrestling Classic can result in an exhausting or celebratory weekend and sometimes even both.
Since the 32-team field contained most of the grappling contenders in the Northern region public and private school ranks, it can serve as a barometer for what a team and its wrestlers need to improve upon during the course of the season.
Others just want to make it through what can sometimes feel like a never-ending parade of wrestling, with those relegated to the consolation rounds battling through six and sometimes seven bouts before their tournament is complete.
Judging from the tired expressions of more than 430 wrestlers that competed in approximately 840 matches over two days at Fairfax High School, it took a heavy toll on all of them.
"To get through it, it's great accomplishment," said Tim Gordon, Fairfax director of student activities and one of the tournament's directors. "It takes a lot of wrestling to get into the championship."
The heavy workload didn't bother Fairfax junior Jordan Yost, who pinned his opponent early to claim the 171-pound title. Only 2 minutes, 32 seconds into the match with George Mason's Jake Schwind, Yost saw his opponent make a mistake and jumped on the opportunity.
"I was trying to some stuff at neutral [position], but he was really strong. I got lucky one time," Yost said. "But he messed up on a shot, and I got behind him. He really couldn't get away from me."
In Yost's home gym, it appeared as if Schwind was the only one who tried to get away from him. With a group of screaming friends approaching him after stepping down from the winner's podium, Yost couldn't contain a smile.
Over the past two years, Yost had watched friends and teammates shake off the effects that a two-day tournament can have on the body. Yost had always wanted to be standing atop the wooden blocks with a medal wrapped around his neck. After staying at the school until after midnight on Friday night into Saturday morning to make weight, he achieved that goal.
"It means a lot because I'm so close with all the guys who've gone through here, and they've all won it," Yost said. "It's a family thing."
<b>AFTER CONCEDING</b> three out of the past four Northern Region Classics to Westfield, the Robinson wrestling team finally reclaimed the title, holding off the Bulldogs, 222-194.5. The Rams had two wrestlers, seniors Roman Perryman and Reid Brown, score title match wins, while three more Robinson wresters rounded out the top three spots.
In his win over Lake Braddock's Ross Renzi, the 145-pound Brown battled through two scratches to his cornea and walked away with a 4-3 victory — the first of his high school career. It was also a gutsy and pain-filled performance to which Brown, who wrestled through a fractured bone in his back last season, has become accustomed.
"I've always had a really high tolerance for pain," Brown said. "I still wrestled. I still got beat up, and I still came out on top."
Joining Brown on top was the 130-pound Perryman, who, after taking a 6-6 tie into the final two-minute period, executed an important takedown for an 8-6 win over Bishop O'Connell's Nam Dunbar.
"I always like to go into the tournament trying to set a tone for the region," said Perryman, who won the Northern Region Classic's 119-pound division last season as a junior. "It shows that I've been working hard and that all the hard work is paying off."
<b>IN OTHER TOURNAMENT ACTION,</b> Robinson's Marcus Hathaway suffered a 1-0 defeat to Westfield's Austin Fallon in the 189-pound final. Hathaway nearly executed a takedown at the end of the final two-minute frame, but an official ruled that it came too late to count. Robinson's Jake Smith (103), Ben Stallings (140) and Mickey Bennett (145) earned third-place finishes.
W.T. Woodson received a pair of fourth-place performances from Bob Hauser (112) and Spencer Peters (171) and finished 15th as a team with 80 points. David Salgado of Fairfax took fifth place in the 189-pound division and the Rebels took 13th with 89.5 points. Paul VI was 21st (60.5) behind Sammy Ojjeh's third-place effort in the 215-pound weight class.
More like this story