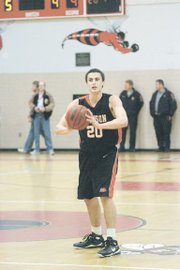 Madison High boys basketball coach Chris Kuhblank was not at all discouraged by his team's season opening 71-41 non-district road loss at private-school power Bishop O'Connell (Arlington) early last week.
For the Warhawks, it was a chance to matchup against one of the metropolitan area's elite programs over recent seasons. The Knights, in the last few years, have had such current ACC players as Marcus Ginyard (North Carolina) and David Neal (Maryland) on its squad and have been a dominant force within the Virginia Independent School League, the governing body of the state's private-school teams. O'Connell is coached by Joe Wootten, the son of former legendary DeMatha High coach Morgan Wootten.
"We were playing right with them," said Kuhblank, whose team trailed the Knights by a 26-20 score at halftime in the game played Dec. 1.
But the coach said O'Connell took control of the game in the second half by taking advantage of any and all Madison miscues.
"They capitalized very quickly," said Kuhblank, who said O'Connell's defensive pressure in particularly was intense. "We had to really fight to stay with them. They're well coached, play hard and are hard to beat."
The following night, Madison lost to Northern Region opponent Herndon, 52-43, in a non-district road game. Playing a quality team like the Hornets, a member of the Concorde District, was a tough task and even more difficult 24 hours after having faced O'Connell. Herndon has one of the region's top players in senior forward Isaac Johnson, who recently scored 21 points with 13 rebounds in a Herndon loss to DeMatha.
Madison led Herndon at the half, 27-21, before wearing down in the second half.
"We knew playing back to back on the road would be very difficult," said Kuhblank, whose Madison teams have won 40 of 46 home games over the past four seasons, but have had a tougher time away from Vienna. "We ran out of gas [in the second half] and Herndon is very good."
Madison senior frontcourt player Will Clarkson, the Warhawks' football quarterback this past fall, led his team with 25 points against Herndon. He was the lone Warhawk in double figures.
"We were just going to him every time [down the court]," said Kuhblank, whose team was riding the red hot Clarkson against the Hornets. "He was getting dunks, hitting [outside] threes and making free throws."
<b>MADISON</b> (1-2) got into the win column last Friday with a 55-44 comeback win at local rival Oakton. Clarkson led a balanced Madison scoring attack with 15 points. Other Warhawks in double figures were senior guard Gavin Hilburn (13 points), senior point guard Omi Ogolo (13) and Trevor Swindley (10), a transfer student from Flint Hill School.
"I used to coach at Oakton and that's a game I wanted to win," said Kuhblank.
The 6-foot-5-inch Clarkson, who saw limited playing time last year, improved his all-around game during the offseason. Along with his big games against Herndon and Oakton, the post player tallied 14 points in the season opening loss to O'Connell. He is averaging 19 points and six rebounds through three games.
"He's a post [player] that can score as a guard," said Kuhblank, of the versatile Clarkson's ability to produce solid play inside and away from the paint. "Will does everything. He draws charges, blocks shots, rebounds and scores inside and outside."
Clarkson and Hilburn are Madison's team captains this winter. Hilburn, a shooting guard, is Madison's defensive stopper, according to Kuhblank.
"We do everything based on our defense," said Kuhblank, whose Madison team last year finished 20-7 overall and made it all the way to the region semifinals at the Patriot Center before seeing its season end with a loss to Langley.
Over the past three years, a Madison player has been named as the district's defensive player of the year. Last year, since graduated player Drew Smerdinski earned that honor. Kuhblank expects one of his players to, once again, earn that postseason accolade after this season.
"The last three years we've had the best defensive player in the Liberty District," said the coach.
<b>ONE OF THE KEYS</b> for Madison this season will be the play of Ogolo, a standout defender who has averaged 10 points per game in each of the past two years for Madison. He earned Second Team All-District honors last year and is the Warhawks' lone returning starter this winter.
This season, Ogolo is playing point guard after having played an off guard position the past two years.
Ogolo missed early season practices and Madison's first couple of games as a result of a hip injury. He came off the bench in his season debut against Oakton and helped the Warhawks overcome an early 18-6 deficit against the Cougars.
This week, Madison was scheduled to play non-region opponent Forest Park (Woodbridge) Tuesday. This Friday night, the Warhawks will host non-district opponent West Springfield and Spartan scoring sensation Bryn Renner.
Next week, Madison will begin its district schedule with games at South Lakes Tuesday and against visiting Marshall, Friday, Dec. 19.