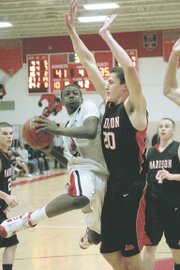 Most high-school basketball teams spent some of the recent holidays competing in tournaments. But the Madison boys team used the time to practice hard in preparation for the bulk of its Liberty District schedule, which continued on Tuesday of this week with a game at Stone Bridge in Ashburn.
"They're definitely sick of practicing three hours," Madison coach Chris Kuhblank said with a laugh. "We're ready for a game."
Kuhblank thought it best to utilize the holidays as a time of practicing hard on a nearly daily basis. Madison, unlike last year's more seasoned team, entered this winter season as a relatively inexperienced unit.
Because the Warhawks did not participate in a tournament over the winter break when students had some time away from school, they were allowed to add a couple of games to their schedule. Madison played those non-Northern Region contests prior to the break — a season opening loss to powerful O'Connell Dec. 1, and a 56-50 home victory over Forest Park of Woodbridge Dec. 9.
Kuhblank, whose team was 5-3 going into this week's play, said his team's main priority over the recent holidays was to get healthy. Five of his team members were under the weather going into the winter vacation.
This marked the first time in Kuhblank's nine years as a high-school head coach, including four seasons at the helm of the Oakton boys prior to coming to Madison, in which his team has not participated in a holiday tournament.
"We practiced just about every day and we needed that time," he said.
On one day, Kuhblank elected to forego practice and reward his team with a trip to the ESPN Zone restaurant in Washington, D.C. The team went there by bus and spent the evening eating, playing the arcade games and enjoying their time together. Kuhblank even took his two children with him, who are 7 and 5.
"It was a good break for them," he said of the team trip.
<b>MADISON DOES</b> not have a deep bench this winter and Kuhblank said the Warhawks will only use six players with any regularity. That means Madison, not a physically imposing team, will have to utilize its good physical conditioning and all-around basketball smarts to win games. The Warhawks will try to slow the game pace down and utilize more of a half court brand of ball.
When Kuhblank was at Oakton, he also had a limited bench. In 2002, the Cougars qualified for the state AAA playoffs despite their lack of manpower.
"You have to play smart," said Kuhblank, of a team such as this year's Madison squad which is limited in talent, depth and size. "To be successful we'll have to dictate the tempo and play at a pace comfortable for us — a slower pace. It means we have to work for a good shot within our scheme. We have to slow down and make other teams work hard."
The coach said it is important that Madison stay out of foul trouble and that the Warhawks must work extremely hard on both the offensive and defensive sides of the floor. He said part of the reason for his team's three hour practice sessions during the winter break was to build up its conditioning.
Madison was 1-1 in district play entering this week. It opened the district schedule with a 50-39 loss at South Lakes Dec. 16. The Warhawks, however, were victorious over visiting Marshall, 61-51, three days later for their first district win. In its final game prior to the holidays, Madison won at home over non-district foe Centreville, 56-39, on Dec. 22.
The team's top scorer thus far is senior front-court player Will Clarkson, who is averaging 20 points and six rebounds per game. Senior point guard Omi Ogolo, Madison's lone returning starter from last year and an outstanding defensive player, is averaging 12 points, five assists and three steals a contest this winter. Trevor Swinley, a junior wing, is scoring eight points a game. Swinley is a transfer student from Flint Hill School and recently earned a spot in Madison's starting line-up.
Madison has received stellar play off the bench from junior point guard TJ Ehrsam, who has sparked the Warhawks as their sixth man. Kuhblank said the hard-playing Ehrsam brings energy to the lineup.
"He's played tremendously," the coach said. "He plays all three guard positions and is the heart and soul of our practices."
Madison is scheduled to play a home game against district rival McLean this Friday night. Next Tuesday, Jan. 13, the Warhawks will host district opponent Langley.
Madison's wins this season have come over Oakton, Forest Park, West Springfield, Marshall and Centreville.