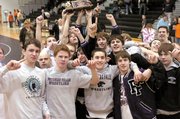 Potomac Falls High wrestling coach Rob Puterio believes the Panthers have the potential to be one of the top teams in both Region II and the state this winter. The team, coming off a Dulles District title last year, has numerous, talented seniors.
"This, in my opinion, has a chance to be the best [Potomac Falls] team in the last 12 years," said Puterio, who is in his fourth year as the program's head coach, but was a longtime assistant with the Panthers prior to that.
Potomac Falls wrestling has known stellar success over the years. The Panthers finished fifth in the state in 2000 and third in the state in 2003. They were district champions from 2001 through 2004.
Potomac Falls, however, has not finished among the top-10 teams in state AA competition since 2005. The Panthers are hungry to regain their standing as one of Virginia's top teams.
The parts are there for this to be an outstanding season for the Panthers.
"We're looking pretty good right now," Puterio said.
<b>POTOMAC FALLS</b> took second place at the Fort Defiance wrestling tournament, held Dec. 6. The Panthers had five individual champions at the meet: Michael Oswald (135-weight class), Charlie Haislip (152), Joshua Berlin, Ryan Hagen (152) and David Zedan (215).
Second-place finishers for Potomac Falls were: Nick Rea, JoJo Koenig, Darren Waters, Chris Belin and Aaron Rowane.
Other solid place outings came from Mike Linza (third place), Ryan Snead (third), Zach Duffin (third) and Ray Khawaja (fourth).
The Panthers were also a second-place finisher at last weekend's Sterling Lion's Terry McGowan Invitational at Park View High School Dec. 13. The team results were as follows: first-place Bishop O'Connell, 219.5 points; second-place Potomac Falls, 212; third-place Briar Woods, 139; fourth-place West Potomac, 123; fifth- place Park View, 95; sixth-place Charlottesville High, 54; seventh-place West Springfield High, 38; and eighth-place Clarke County High, 26.
Potomac Falls saw nine wrestlers reach the finals and two — Aaron Rowane at 160 and Zach Duffin at heavyweight — win championships. "We wrestled well," Puterio said. "We had a rough finals round."
The individual championship results were as follows: at 103, Tuan Dang (Park View) defeated Nick Rea (Potomac Falls), 11-9 in overtime; at 112, Stephen Penna (Park View) defeated Brian Hulcher (Briar Woods), 11-5; at 119, Kyle Mason (O'Connell) defeated JoJo Koenig (Potomac Falls) by pin; at 125, James Young (O'Connell) defeated Mike Finniff (Clarke County), 9-3; at 130, Nam Dunbar (O'Connell) defeated Ryan Snead (Potomac Falls) by pin; at 135, Jonathan Carpenter (O'Connell) defeated Michael Oswald (Potomac Falls) by pin; at 140, Chris Curtin (O'Connell) defeated Darren Waters (Potomac Falls) by pin; at 145, Conor Furey (O'Connell) defeated Sam Agyemang (West Potomac), 8-5; at 152, Shadrick Ntenda (Charlottesville) defeated Ryan Hagen (Potomac Falls), 7-5; at 160, Aaron Rowane (Potomac Falls) defeated Jared Beane (Briar Woods) by pin; at 171, Mike Fleming (Briar Woods) defeated Paul Freiert (Potomac Falls), 11-2; at 189, Stephen Howell (West Potomac) defeated Bobby Cockrille (Park View) by pin; at 215, Chris Straubs (O'Connell) defeated Hunter Shafer (Park View), 8-4; at heavyweight, Zach Duffin (Potomac Falls) defeated Jonathan Nieto (O'Connell) by pin.
<b>THE PANTHERS' TOP</b> returning wrestler is junior Paul Rowane (125 division). Last year, Rowane was second in the district at 119, fourth in the region and eighth at states.
"He's been a longtime wrestler," Puterio said. "He's a great wrestler on his feet."
Senior Charlie Haislip (140) is looking to have a big season after missing the postseason last year as a result of an injury. Two years ago, Haislip finished seventh in the state at the 103-weight class. Last year he wrestled at 125.
"I think he can go to the state tournament," Puterio said of the talented Haislip. "Charlie is very creative. He sees things on the mat and moves very fluidly. He's an athlete and does things most wrestlers can't do."
Other key members of this year's team include defending district champions Ryan Snead (130), Ryan Hagen (152) and David Zedan (215).
Juniors Aaron Rowane (160) and Zach Duffin (heavyweight) were second-place district finishers last year and Michael Oswald (135) was third.
Potomac Falls will compete at the Trojan Duals at New Kent High School, located outside of Richmond, this Saturday.
Over the holidays, the Panthers will participate in the Willie Walters Invitational at James Wood High (Winchester) Dec. 30. Then, just after the New Year, they will be at the Arundel Invitational (Md.) Jan. 2-3.